Magnesium-calcium
Interesting info on magnesium-Calcium inter action
research realted to Magnesium Feb 15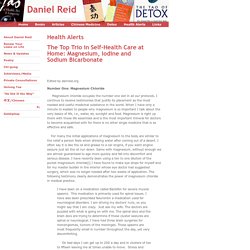 The Top Trio in Self-Health Care at Home: Magnesium, Iodine and Sodium Bicarbonate
by Mark Sircus Ac., OMD International Medical Veritas Association Edited by danreid.org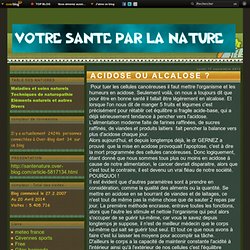 ACIDOSE OU ALCALOSE ?
A la suite de l'article sur la guérison du cancer, une question ne manque pas de se poser. Pour tuer les cellules cancéreuses il faut mettre l'organisme et les humeurs en acidose. Seulement voilà, on nous a toujours dit que pour être en bonne santé il fallait être légèrement en alcalose. Et lorsque l'on nous dit de manger 5 fruits et légumes c'est précisément pour rétablir cet équilibre si fragile acide-base, qui a déjà sérieusement tendance à pencher vers l'acidose.
About
Please answer the following questions. The RDA (Recommended Dietary Allowance) is the amount of an essential nutrient that will meet the daily requirement for almost all (97.5%) HEALTHY individuals in a given gender and age-range group. The magnesium and calcium RDA for in this age range ( ) is: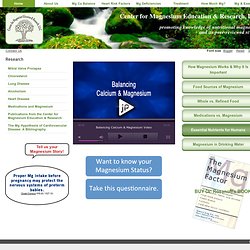 Nutritional Magnesium Association Information on high blood pressure, heart disease, stroke, diabetes, magnesium deficiency
Andrea Rosanoff, PhD, The importance of magnesium to heart health
Balancing Calcium with Magnesium
Excellent Visual! Interesting too by jubault Feb 15
Dr Carolyn Dean MD ND
Le chlorure de magnésium : Un remède miracle méconnu - La Lettre Ecol'Eau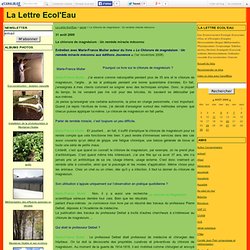 Le chlorure de magnésium : Un remède miracle méconnu
unnamed pearl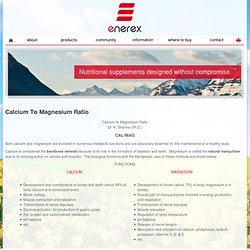 Both calcium and magnesium are involved in numerous metabolic functions and are absolutely essential for the maintenance of a healthy body. Calcium is considered the backbone mineral because of its role in the formation of skeleton and teeth. Magnesium is called the natural tranquilizer due to its relaxing action on nerves and muscles.