Businesses
Project management and collaboration skills play a major role in every business and often the outcome of a project is highly affected by the initial planning and monitoring stages of a project. Project management is especially important for small and flexible businesses where all the work is based on a few people who have to communicate and develop the workflow. Globalization has made collaboration even more essential since many modern businesses like web design agencies don't even have a constant address – people all around the world are working from their home.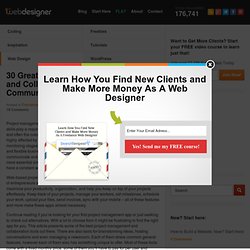 Gecco Shop
Professor Wilton Chau Chairman, QLeap Venture; Vice Chairman, Hong Kong Business Angel Network Professor of Practice in Entrepreneurship and Associate Director - MBA Programs, CUHK Business School Professor Chau has over 27-year extensive experience in venture capital and direct investment in the Asian Pacific region. Currently he is the Chairman of QLeap Venture Fund, a venture capital fund mainly investing in Asian early-stage technology ventures, and the Founding Vice-Chairman of the Hong Kong Business Angel Network, the largest non-profit making angel organization in Hong Kong. In addition, he is the Lead-Consultant to the Incubation Program of the Hong Kong Science and Technology Park (HKSTP) responsible for leading a team of consultants to advise all technology ventures in HKSTP regarding their business models and fundraising strategies.
Professor Wilton Chau | Center for Entrepreneurship
Energy transfer / Graphene
China should speed up the research and development on air monitoring equipment in line with the rising demand after the country puts in place stricter air quality standards, an environment researcher said Saturday. The equipment and technologies that China is using to monitor PM2.5 -- fine particles 2.5 microns or less in diameter -- are mainly from other countries, said Wen Xiangcai, a researcher at the China National Environmental Monitoring Center (CNEMC). China's Cabinet, the State Council, on Wednesday passed revised air quality standards which include an index for the concentration of PM2.5. The monitoring will cover 113 model cities on the state environmental protection list and all cities in 2015.
Environment Researcher Calls for Innovation of Air Monitoring Equipment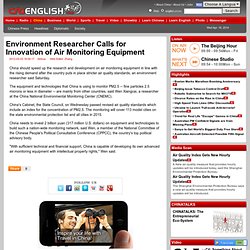 My Stats — WordPress.com
Oysters "Fine de Claires" Marennes Oléron Each year in Charente Maritime (France), 60 000 metric tons of the Japanese oyster Crassostrea gigas are commercialized under the registered brand name of « Marennes-Oléron ». Before going to market, oysters are deployed for one ore two months over 3 000 ha of salt marsh ponds called « claire ». This maturing process called « affinage », based upon the French norm specifying the « fine » and « spécialede claire »,
Fines de claires Oysters`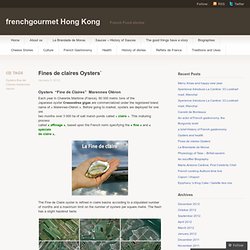 Aloe Vera Skincare
U-food Article January 2012 - lescopains
Champagne Tsarine - Bienvenue