Businesses
Kusiri Wins '3D FinTech Challenge 2013' PR: Fiserv Launches Data Vaulting Solution to Deliver Secure Data Backup, Storage and Recovery for Banks and Credit Unions. BROOKFIELD, Wis.– (BUSINESS WIRE) – Fiserv, Inc.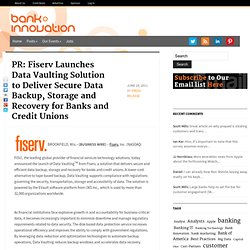 (NASDAQ: FISV), the leading global provider of financial services technology solutions, today announced the launch of Data VaultingTM from Fiserv, a solution that delivers secure and efficient data backup, storage and recovery for banks and credit unions. A lower-cost alternative to tape-based backup, Data Vaulting supports compliance with regulations governing the security, transportation, storage and accessibility of data. The solution is powered by the EVault software platform from i365 Inc., which is used by more than 32,000 organizations worldwide. As financial institutions face explosive growth in and accountability for business-critical data, it becomes increasingly important to minimize downtime and manage regulatory requirements related to data security. The disk-based data protection service increases operational efficiency and improves the ability to comply with government regulations. Crowdsourcing Grows Up: 7 Indicators it's here to stay.
It's been almost ten years since James Surowiecki published The Wisdom of Crowds, which launched the notion that there was wisdom, and indeed robust solutions to be harvested from "crowds" that far exceeded comparable individual efforts.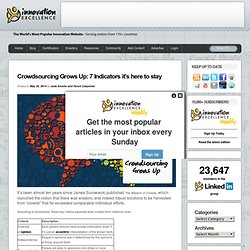 According to Surowiecki, these key criteria separate wise crowds from irrational ones: In parallel, aggregation platforms – often called Idea Management software were coming into being and in the decade since have matured, grown up, and become standard operating procedure for businesses solving problems of all kinds via crowdsourcing. Initially, these platforms were tuned towards new product development, however, savvy companies recognize that the "crowd" has utility for all manner of problem solving. Which is good because there are no shortage of problems to be solved. The Internet of Things in 2014 [Infographic] As technology continues to shift to the cloud, the "Internet of Things" has been gaining considerable traction.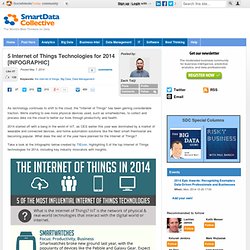 We're starting to see more physical devices used, such as smartwatches, to collect and process data via the cloud to better our lives through productivity and health. 2014 started off with a bang in the world of IoT, as CES earlier this year was dominated by a market of wearable and connected devices, and home automation solutions like the Nest smart thermostat are becoming popular. What does the rest of the year have planned for the Internet of Things? Resume | Tim's Place. Over thirty year track record of success in cutting edge Internet systems and applications, including applied research and development for the US Government and over twenty years working with innovative new technology companies.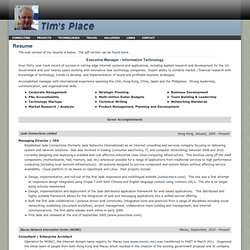 Expert ability to combine market / financial research with knowledge of technology, trends to develop, and implementation of sound and profitable business strategies. Accomplished manager with international experience spanning the USA, Hong Kong, China, Japan and the Philippines. Strong leadership, communication, and organizational skills. Managing Director / CEO Established Jade Connections (formerly Jade Networks International) as an Internet consulting and services company focusing on delivering system and network solutions. Was also involved in trading (consumer electronics, IT, and computer networking) between 2008 and 2010. 30 Greatest Online Project Management and Collaboration Tools.
Project management and collaboration skills play a major role in every business and often the outcome of a project is highly affected by the initial planning and monitoring stages of a project.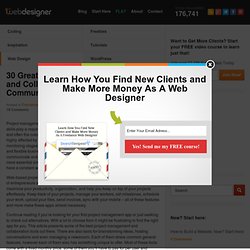 Project management is especially important for small and flexible businesses where all the work is based on a few people who have to communicate and develop the workflow. Globalization has made collaboration even more essential since many modern businesses like web design agencies don't even have a constant address – people all around the world are working from their home.
Miss Chloe
Frenchgourmethk. Gecco Shop. Homemade Natural. ASTON IT FINANCE. Fund raising FGHK. Professor Wilton Chau | Center for Entrepreneurship. Professor Wilton Chau Founding Vice Chairman, Hong Kong Business Angel Network Professor of Practice in Entrepreneurship, Associate Director - MBA Programs, Director - Pan Asia Venture Development Platform, MBA Programs, CUHK Business School Professor Chau has over 27-year extensive experience in venture development investment in the Asian Pacific region.
Currently he is the Chairman of QLeap Venture Fund, a venture capital fund mainly investing in Asian early-stage technology ventures, and the Founding Vice Chairman of the Hong Kong Business Angel Network, the largest non-profit making angel organization in Hong Kong. In addition, he is the Lead-Consultant to the Incubation Program of the Hong Kong Science and Technology Park (HKSTP) responsible for leading a team of CUHK consultants to advise all technology ventures in HKSTP regarding their business models and fundraising strategies.
Environment Researcher Calls for Innovation of Air Monitoring Equipment. China should speed up the research and development on air monitoring equipment in line with the rising demand after the country puts in place stricter air quality standards, an environment researcher said Saturday.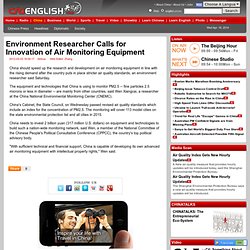 The equipment and technologies that China is using to monitor PM2.5 -- fine particles 2.5 microns or less in diameter -- are mainly from other countries, said Wen Xiangcai, a researcher at the China National Environmental Monitoring Center (CNEMC). China's Cabinet, the State Council, on Wednesday passed revised air quality standards which include an index for the concentration of PM2.5.
The monitoring will cover 113 model cities on the state environmental protection list and all cities in 2015.
Large scale KM
My Stats — WordPress.com. Fines de claires Oysters` Oysters "Fine de Claires" Marennes Oléron Each year in Charente Maritime (France), 60 000 metric tons of the Japanese oyster Crassostrea gigas are commercialized under the registered brand name of « Marennes-Oléron ».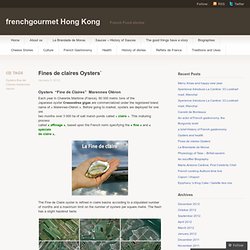 Before going to market, oysters are deployed for one ore two months over 3 000 ha of salt marsh ponds called « claire ». This maturing process called « affinage », based upon the French norm specifying the « fine » and « spécialede claire »,
Trade enquiry
Dali. Credit Insurance. Aloevera-cream. Aloe Vera Skincare. U-food Article January 2012 - lescopains. Google+ Food stuff HK. Wineshop.hk. Champagne Tsarine - Bienvenue. Pearltrees. Hydromel.
---