Javascript
PI JS
Clippy.js is a full Javascript implementation of Microsoft Agent (AKA Clippy and friends), ready to be embedded in any website.
ClippyJS - Add Clippy or his friends to any website for instant nostalgia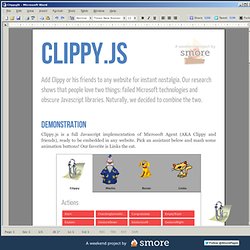 LazarSoft/jsqrcode
QRCode.js is javascript library for making QRCode. QRCode.js supports Cross-browser with HTML5 Canvas and table tag in DOM.
qrcode.js
JSQR - JavaScript Quick Response Code Encoder Library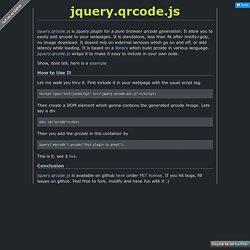 jeromeetienne.github.io/jquery-qrcode/
jquery.qrcode.js is jquery plugin for a pure browser qrcode generation. It allow you to easily add qrcode to your webpages.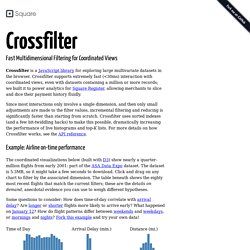 Fast Multidimensional Filtering for Coordinated Views Crossfilter is a JavaScript library for exploring large multivariate datasets in the browser. Crossfilter supports extremely fast (<30ms) interaction with coordinated views, even with datasets containing a million or more records; we built it to power analytics for Square Register, allowing merchants to slice and dice their payment history fluidly.
Crossfilter
Nvd3
Getting started with Knockout.js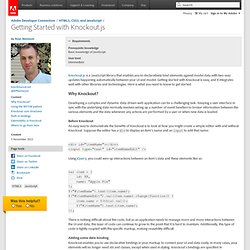 One of Knockout's guiding principles is to stick to its strengths and provide extensibility points for the areas outside of its core competencies. This gives you the flexibility to integrate Knockout with your preferred libraries and technologies.
gorhill/Javascript-Voronoi
The Online Lint
kitao/divsugar
kig/JSARToolKit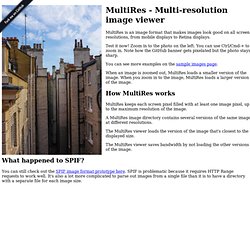 MultiRes is an image format that makes images look good on all screen resolutions, from mobile displays to Retina displays. Test it now! Zoom in to the photo on the left.
SPIF - Streaming Progressive Image Format
The Miso Project
Vanilla JS
Back Alley Coder | A blog about the web, javascript, business, and my life at large
One of the cool things about working at Yahoo!
Sometimes I hack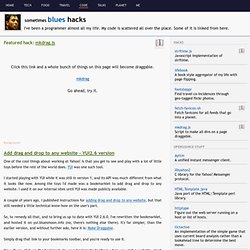 Create a new Fiddle - jsFiddle
Hogan.js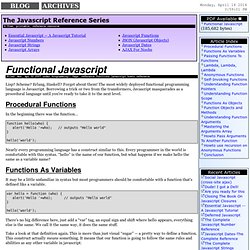 Functional Javascript
Warning: strtotime() [function.strtotime]: It is not safe to rely on the system's timezone settings. You are *required* to use the date.timezone setting or the date_default_timezone_set() function.
Tempo :: The tiny JSON rendering engine by TwigKit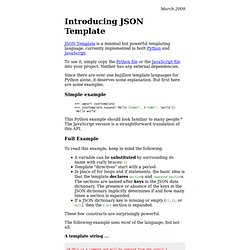 Introducing JSON Template
March 2009 JSON Template is a minimal but powerful templating language, currently implemented in bothPython and JavaScript.
tubalmartin/riloadr
wakanda
PouchDB
Video.js is a JavaScript and CSS library that makes it easier to work with and build on HTML5 video. This is also known as an HTML5 Video Player. Video.js provides a common controls skin built in HTML/CSS, fixes cross-browser inconsistencies, adds additional features like fullscreen and subtitles, manages the fallback to Flash or other playback technologies when HTML5 video isn't supported, and also provides a consistent JavaScript API for interacting with the video. What's HTML5 Video? HTML is the markup language that makes up every page on the web. The newest version, HTML5, includes specifications for a <video> tag, that's meant to allow web developers to add a video to a page in the same way they would add an image.
HTML5 Video Player | Video.js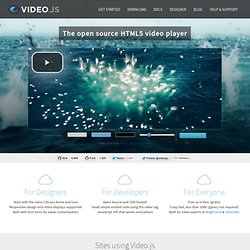 VeriteCo/Timeline
D3.js - Data-Driven Documents
Adapt.js - Adaptive CSS
JavaScript Ajax Library - Rich Web UI Components - Complete Suite of Ajax Controls, File Uploader, Scheduler, Gantt
Ember.js - About
paración de Javascript Frameworks ~ Introducción. | Blog | PabloImpallari | Diseño Web Argentina. Desarrollo y Programación en Php. Argentina. España. Rosario
Hasta hace poco tiempo atrás, javascript solo se utilizaba para cosas accesorias o de poca importancia.
Handlebars.js: Minimal Templating on Steroids
Underscore is a utility-belt library for JavaScript that provides a lot of the functional programming support that you would expect in Prototype.js (or Ruby), but without extending any of the built-in JavaScript objects. It's the tie to go along with jQuery's tux, and Backbone.js's suspenders. Underscore provides 80-odd functions that support both the usual functional suspects: map, select, invoke — as well as more specialized helpers: function binding, javascript templating, deep equality testing, and so on.
Underscore.js
Zepto.js: the aerogel-weight jQuery-compatible JavaScript library
Fit To Scale
My site is now responsive.
JavaScript Ajax Library - Components for Rich Web UI - Complete Suite of Ajax Controls, File Uploader, Scheduler, Gantt
Modernizr
JS Game Engines
PHP Scripts, WordPress Plugins, HTML5, jQuery, and CSS
Backbone.js And PhoneGap Sample App
3inShare
JavaScript Ajax Library - Components for Rich Web UI - Complete Suite of Ajax Controls, File Uploader, Scheduler, Gantt
JSLint,The JavaScript Code Quality Tool