Social
A letter to a weatherman by 4 year old- 'pretty dang sweet'
Luis von Ahn: Massive-scale online collaboration
Inside Syria: Photographs by Rodrigo Abd
AP cameraman Ahmed Bahaddou and I sneaked into Syria from Turkey, traveling with the rebels' Free Syrian Army. Our aim was to understand and cover the conflict in the country's northwest region, as well as in the hard-hit Homs neighborhood of Bab Amr, under siege for weeks by government forces. Almost as soon as we arrived, news broke of a massacre and the military victory of Bashar Assad's forces in Homs. But after traveling in the country for about 10 days it became clear that the rebel stronghold of Idlib was likely to be the next source of news. Saturday, March 10, was a horrifying day in Idlib. Ahmed and I had slept the night before in a hospital for security.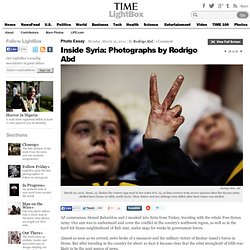 Teju Cole on American sentimentality towards Africa
Posted by Ethan on Mar 8th, 2012 in Africa | 11 comments Teju Cole, who just won a prestigious award for his novel "Open City", offers a brief essay, in Twitter form, as a reaction to Invisible Children's Kony 2012 campaign: Seven thoughts on the banality of sentimentality. 1- From Sachs to Kristof to Invisible Children to TED, the fastest growth industry in the US is the White Savior Industrial Complex. 2- The white savior supports brutal policies in the morning, founds charities in the afternoon, and receives awards in the evening. 3- The banality of evil transmutes into the banality of sentimentality.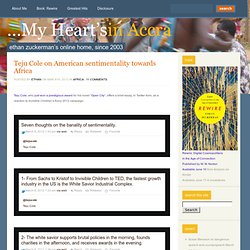 See that pink ATM-looking thing in the middle of the above photo? Look at it. LOOK AT IT!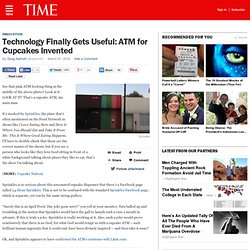 Technology Finally Gets Useful: ATM for Cupcakes Invented
The power of money
Is Your Cell Phone Making You a Jerk?
Cell phones keep us socially connected, but new research suggests they actually reduce users' social consciousness. In fact, the study showed that cell phone use was linked to more selfish behavior. Researchers from the University of Maryland's Robert H. Smith School of Business found that after a short period of cell phone use, people were less likely to partake in "prosocial" behavior — actions that are intended to help another person or society — compared with a control group. For example, after using a cell phone, study participants were more likely to turn down volunteer opportunities and were less persistent in completing word problems, even though they knew their answers would provide money for charity. The same drop in prosocial tendencies occurred even when participants were simply asked draw a picture of their cell phones and think about using them.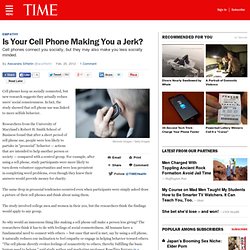 True Hero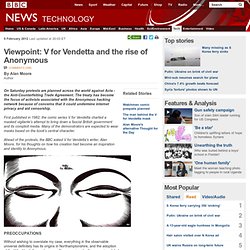 9 February 2012Last updated at 20:03 ET By Alan Moore Author On Saturday protests are planned across the world against Acta - the Anti-Counterfeiting Trade Agreement. The treaty has become the focus of activists associated with the Anonymous hacking network because of concerns that it could undermine internet privacy and aid censorship.
Viewpoint: V for Vendetta and the rise of Anonymous
That's right
Original source unknown. (But the story appears to have some basis in fact.) Start with a cage containing five monkeys. Inside the cage, hang a banana on a string and place a set of stairs under it. Before long, a monkey will go to the stairs and start to climb towards the banana. As soon as he touches the stairs, spray all of the other monkeys with cold water.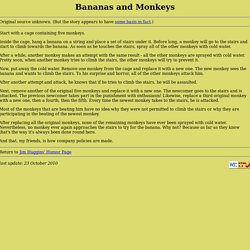 Bananas and Monkeys - StumbleUpon
Fred O'Bryant's Quote Collection - Volume 1
- StumbleUpon
Display of blackout poetry by the 8th grade students of Karen Tegtmeyer! Awesome. Awesome: grade nine students from Alberta, Canada making blackout poetry! Thanks @MsAmberJM for sharing! Kleon addresses with equal parts humility, honesty, and humor one of the quintessential questions of the creative life: How do you get "discovered"? In some ways, the book is the mirror-image of Kleon's debut — rather than encouraging you to "steal" from others, meaning be influenced by them, it offers a blueprint to making your work influential enough to be theft-worthy.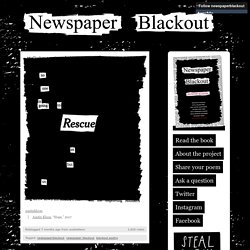 Newspaper Blackout
If there's one thing Friedrich Nietzsche did well, it's obliterate feel-good beliefs people have about themselves. He has been criticized for being a misanthrope, a subvert, a cynic and a pessimist, but I think these assessments are off the mark. I believe he only wanted human beings to be more honest with themselves. He did have a remarkable gift for aphorism — he once declared, "It is my ambition to say in ten sentences what others say in a whole book."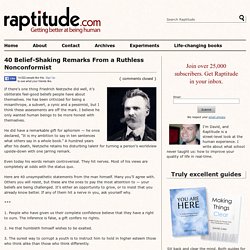 40 Belief-Shaking Remarks From a Ruthless Nonconformist | Raptitude.com - StumbleUpon
Civil Disservice - The Daily Show with Jon Stewart - 01/12