Partage de fichier
Sorry, SoShare is currently not supported on your platform. You can preview content and manage bundles, but you're not able to send or download files. Your account has not yet been activated. Please check your email for the activation link. Bundling up the selected files…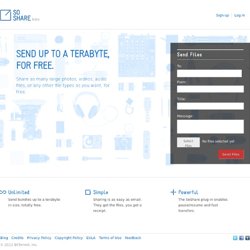 Connecting to every server. With an easy to use interface, connect to FTP (File Transfer Protocol), SFTP (SSH Secure File Transfer), WebDAV (Web-based Distributed Authoring and Versioning), Amazon S3, Google Cloud Storage and Rackspace Cloud Files. Emerging open cloud software standards.Works with thirdparty providers using either the S3 or Openstack Swift APIs. Fast FTP CoreA widely tested FTP (File Transfer Protocol) implementation for the best interoperability with support for FTP over secured SSL/TLS connections. Edit any file with your preferred editor. To edit files, a seamless integration with any external editor application makes it easy to change content quickly.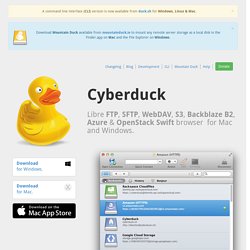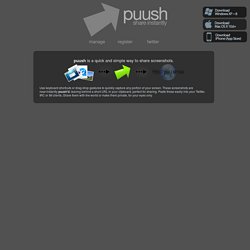 Use keyboard shortcuts or drag-drop gestures to quickly capture any portion of your screen. These screenshots are near-instantly puush'd, leaving behind a short URL in your clipboard, perfect for sharing. Paste these easily into your Twitter, IRC or IM clients. Share them with the world or make them private, for your eyes only. Redefining what puush is. Hey guys,
Uploading.to upload sur toutes les plateformes en ligne- Mirror your files in one click
薬剤師転職 >薬剤師の転職について 今の職場に満足できないと感じた場合、転職するという選択肢もありますよね。 薬剤師の仕事は簡単ではありますが、長年同じところに努めていると徐々に慣れてきます。 最初は薬を出すのに手間取っていた人でも、数年続ければ患者さんの顔を覚え、出さなければならない薬もすぐに想像することができるようになるでしょう。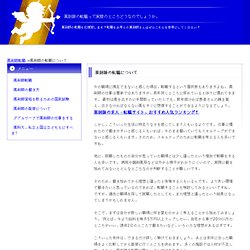 OfficeSync® by MicroSurvey - Wireless file transfer and management service.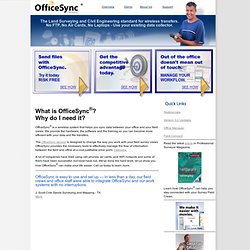 What is OfficeSync®? Why do I need it? OfficeSync® is a wireless system that helps you sync data between your office and your field crews. We provide the hardware, the software and the training so you can become more efficient with your data and file transfers. The OfficeSync service is designed to change the way you work with your field survey crews.
OffiSync
"Total reliance on public online services is a bad idea, having control over your own critical data is good" "There's a whole plethora of places to keep your data online, but without getting too political, there's no place like home, right?" "I found the system worked as advertised.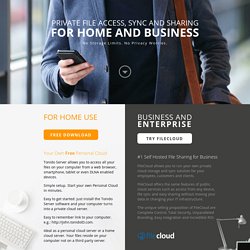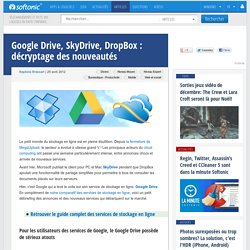 Le petit monde du stockage en ligne est en pleine ébullition. Depuis la fermeture de MegaUpload, le secteur a évolué à vitesse grand V ! Les principaux acteurs du cloud computing ont passé une semaine particulièrement intense, entre annonces chocs et arrivée de nouveaux services.
Google Drive, SkyDrive, DropBox: décryptage des nouveautés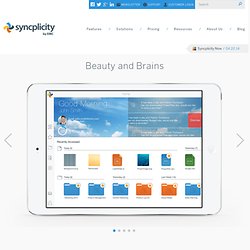 Syncplicity is an enterprise-grade file sharing and collaboration solution. Backed by EMC, the leader in enterprise storage, it provides users with an experience they love and gives IT the control it needs. My Business Solution "And users need to access files on them"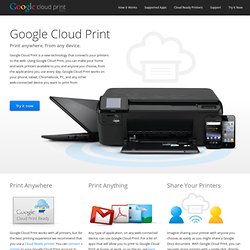 Connect a printer to Google Cloud Print
Print Anywhere Google Cloud Print works with all printers, but for the best printing experience we recommend that you use a Cloud Ready printer. You can connect a printer to your Google Cloud Print account in seconds, and immediately start printing to it.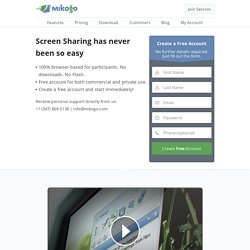 Screen sharing has never been so easy! Have an online meeting, give a presentation, or provide remote support. All features. Unlimited meetings. Powerful solutions for… Sales PeopleFinancial ConsultantsEngineers & ArchitectsProject ManagersIT Help Desk SpecialistsInsurance AgentsTrainers & Teachers…and many more
Envoyer un fichier à quelqu'un a un inconvénient majeur, il faut que le correspondant télécharge le fichier avant de s'en servir. Si vous envoyez une musique, un fichier powerpoint ou une vidéo, vous pouvez avec dropdo.com charger un fichier et envoyer un url à votre correspondant qui pourra utiliser le fichier sans le télécharger. Visualiser si c'est une photo, une vidéo ou un document, écouter le fichier si c'est un fichier audio (of course)
Dropdo : Envoyer un fichier aux amis sans qu'ils aient besoin de le télécharger