Partage de fichier
Any Send. SoShare - Your free and simple large file delivery service. Sorry, SoShare is currently not supported on your platform.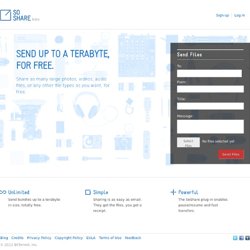 You can preview content and manage bundles, but you're not able to send or download files. Your account has not yet been activated. Please check your email for the activation link. Bundling up the selected files… Cyberduck – FTP, SFTP, WebDAV, Cloud Files, Google Docs & Amazon S3 Browser for Mac & Windows. Puush / home. Uploading.to upload sur toutes les plateformes en ligne- Mirror your files in one click.
Drawpr.com | drop, share, draw - the easy way to share files. Justbeamit.com. Reel – Present your ideas and reel in the feedback. Docs - Online documents, spreadsheets, presentations, surveys, file storage and more. OfficeSync® by MicroSurvey - Wireless file transfer and management service. OffiSync. Tonido - Run your own Personal Cloud. Google Drive, SkyDrive, DropBox: décryptage des nouveautés.
Le petit monde du stockage en ligne est en pleine ébullition.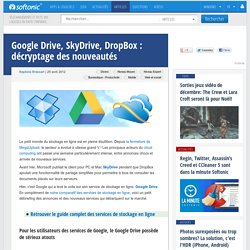 Depuis la fermeture de MegaUpload, le secteur a évolué à vitesse grand V ! Les principaux acteurs du cloud computing ont passé une semaine particulièrement intense, entre annonces chocs et arrivée de nouveaux services. File Sync & Backup Software | File Management | Syncplicity. Connect a printer to Google Cloud Print.
Print Anywhere Google Cloud Print works with all printers, but for the best printing experience we recommend that you use a Cloud Ready printer.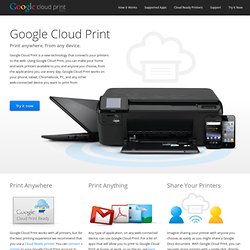 You can connect a printer to your Google Cloud Print account in seconds, and immediately start printing to it. Record & Share your PowerPoint presentations. Dropbox. Windows Live Mesh 2011. Boxopus - Site. Mikogo: réunion a plusieurs Free Remote Desktop, Web Conferencing & Online Meetings. Dropdo : Envoyer un fichier aux amis sans qu'ils aient besoin de le télécharger. Envoyer un fichier à quelqu'un a un inconvénient majeur, il faut que le correspondant télécharge le fichier avant de s'en servir.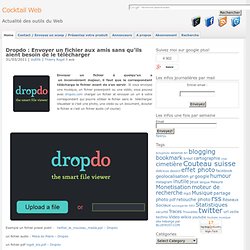 Si vous envoyez une musique, un fichier powerpoint ou une vidéo, vous pouvez avec dropdo.com charger un fichier et envoyer un url à votre correspondant qui pourra utiliser le fichier sans le télécharger. Visualiser si c'est une photo, une vidéo ou un document, écouter le fichier si c'est un fichier audio (of course)
---