Photoshop
100 Best Photoshop Tutorials of All Time that Yield Professional Results. Photoshop tutorials are one of the most popular subjects on the web, as the digital art community continues to grow and new designers bring their unique skills.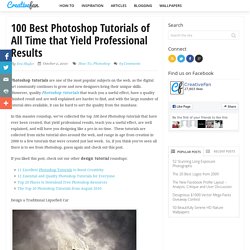 However, quality Photoshop tutorials that teach you a useful effect, have a quality finished result and are well explained are harder to find, and with the large number of tutorial sites available, it can be hard to sort the quality from the mundane. In this massive roundup, we've collected the top 100 best Photoshop tutorials that have ever been created, that yield professional results, teach you a useful effect, are well explained, and will have you designing like a pro in no time.
These tutorials are collected from niche tutorial sites around the web, and range in age from creation in 2008 to a few tutorials that were created just last week. So, if you think you've seen all there is to see from Photoshop, guess again and check out this post. The Ultimate Guide To Cloning In Photoshop - Smashing Magazine. Advertisement Photoshop's wide array of cloning tools is the cause of many of the absolute best and worst works created with the application.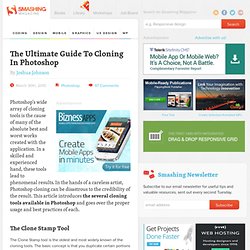 In a skilled and experienced hand, these tools lead to phenomenal results. In the hands of a careless artist, Photoshop cloning can be disastrous to the credibility of the result. This article introduces the several cloning tools available in Photoshop and goes over the proper usage and best practices of each. Photoshop For Beginners: 6 techniques to extract anything from its background. This is the second of a series of tutorials thought for Photoshop beginners.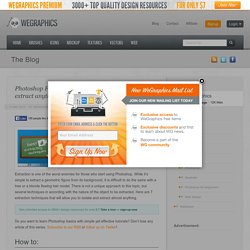 I'll explain in depth those features that can result difficult to understand for a newbi. Today I'll show you 6 techniques you can use to extract a person/object from its background. 10 seriously useful Adobe Photoshop tutorials. Our colleagues over on Computer Arts magazine have been handing down Photoshop wisdom for over a decade.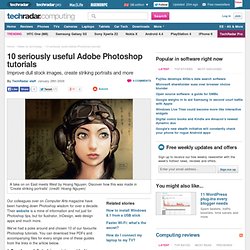 Their website is a mine of information and not just for Photoshop tips, but for llustrator, InDesign, web design apps and much more. We've had a poke around and chosen 10 of our favourite Photoshop tutorials. You can download free PDFs and accompanying files for every single one of these guides from the links in the article below. 1. 70 Tutorials Using Photoshop To Design A Website | Creative Nerd. This article features a huge amount of Photoshop web design tutorials, which will teach you simple effects which can be combined together in order to create a great website design.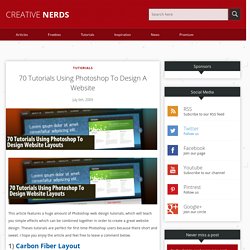 Theses tutorials are perfect for first time Photoshop users because there short and sweet. I hope you enjoy the article and feel free to leave a comment below. 1) Carbon Fiber Layout. 22 Professional Photoshop Image Enhancing Tutorials. Adobe Photoshop is the premier tool for digital artists when it comes to professionally enhancing images.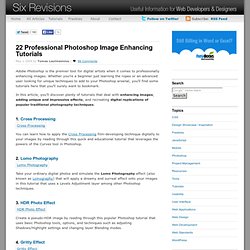 Whether you're a beginner just learning the ropes or an advanced user looking for unique techniques to add to your Photoshop arsenal, you'll find some tutorials here that you'll surely want to bookmark. In this article, you'll discover plenty of tutorials that deal with enhancing images, adding unique and impressive effects, and recreating digital replications of popular traditional photography techniques. 1. Best Photoshop Tutorials. 800+ photoshop tutorials selected by best web design blog | Best. By Sebastiano on 26/12/08 at 5:00 am 0 diggs digg The photoshop tutorials collections are always liked by the readers.
For this reason today I decided to propose 16 photoshop tutorials collections realized by best web design blog. Good work;-) Psdtuts+ | Adobe Photoshop tutorials, from beginner to advanced. 25 Outstanding Photoshop Lighting Effect Tutorials | Vandelay De. Photoshop allows designers to create amazing things with their creativity.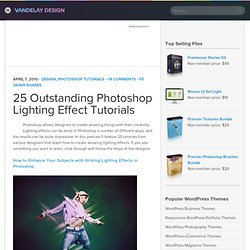 Lighting effects can be done in Photoshop a number of different ways, and the results can be quite impressive. In this post we'll feature 25 tutorials from various designers that teach how to create amazing lighting effects. If you see something you want to learn, click through and follow the steps of the designer. 35+ Photo Editing Tutorials for Photoshop. Photoshop provides photographers and designers with almost unlimited potential to edit photographs to achieve the desired results.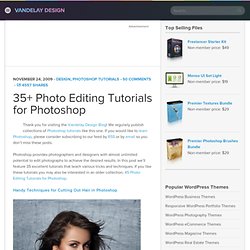 In this post we'll feature 35 excellent tutorials that teach various tricks and techniques. If you like these tutorials you may also be interested in an older collection, 45 Photo Editing Tutorials for Photoshop. Looking for hosting? Graphic Design Blog, Tips and Jobs. An Explanation of Photoshop Blend Modes. The definitions used here are from the Photoshop help files, with a few bits of added explanation where I saw fit to add them.
The Blend Modes specified in the options bar control how pixels in two separate layers interact with and effect each other. It's helpful to think in terms of the following colors when visualizing a blending mode's effect: The base color is the original color in the bottom layer.The blend color is the color being applied by the upper layer.The result color is the color resulting from the blend.
---