food
Get flash to fully experience Pearltrees
I am so in love with these darn chocolate lava cookies! What is it about a warm, gooey chocolate chip cookie stuffed with decadent, rich, melted chocolate that makes it so irresistible?? Especially when topped with vanilla ice cream.
Now I don't want to over sell this, so I'm going to be conservative and simply say, that these are... The Best Brownies In The WORLD. I know, big statement. They're called Slutty Brownies because they're oh so easy, and more than a little bit filthy. They're best served warm from the oven, with good quality vanilla ice cream (devastatingly I didn't have any in the freezer this time, so I guess I'll just have to make them again). They take about 45mins to make, including baking time.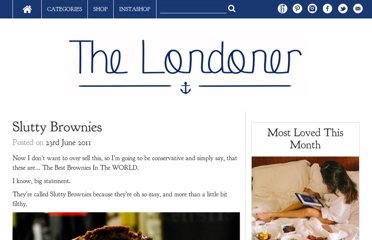 19 Dec I am officially obsessed with these candy serving trays… and guess who I got the idea from?! Hosea Rosenberg , founder and chef of BlackBelly Catering . Yes, he's also the Top Chef Season 5 winner Jenna and I met him at Anne Be's Five party a few weeks ago, and he was kind enough to share this creative idea with me!