CSS
Get flash to fully experience Pearltrees
This entry is part 2 of 16 in the CSS3 Mastery Session - Show All « Previous Next » Twice a month, we revisit some of our readers' favorite posts from throughout the history of Nettuts+. This tutorial was first published in November, 2010. So you learned the base id , class , and descendant selectors – and then called it a day? If so, you're missing out on an enormous level of flexibility. While many of the selectors mentioned in this article are part of the CSS3 spec, and are, consequently, only available in modern browsers, you owe it to yourself to commit these to memory.
You will no doubt come across many quirky layout issues when building a site with CSS. You'll end up banging your head against a wall time and again. This is an attempt to make the design process easier, and provide a quick reference to check when you run into trouble. Translations are available in Français , Deutsch , Nederlands , Italiano , Magyar , Finnish , Russian , Portuguese , Japanese and Simplified Chinese .
Published by Chris Coyier What is "Float"? Float is a CSS positioning property.
CSS is almost certainly one of the best developments in web design since the first graphical web browsers were adopted on a wide scale. Where tables created clunky, slow-loading pages, CSS created much more streamlined and usable web pages. Plus, CSS has allowed designers to achieve a number of different styles that used to only be possible with images.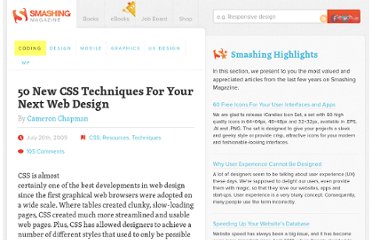 Cascading Style Sheets(CSS) is one of the building blocks of modern web design without which websites would have been ugly just like they were a decade ago. With time, the quality of CSS tutorials out there on the web has increased considerably. Here are 21 amazing CSS Techniques that you might not have thought could be done by CSS.
Looking for ? Here are the top 60 that I know of. They've reduced my workload significantly. Hopefully, they'll reduce yours. CSS Creator - This generator will create a fluid or fixed width floated column layout, with up to 3 columns and with header and footer.
The tools have been sorteds into the following categories: Grid and Layout, CSS Optimisers, CSS Menus Tools, CSS Buttons, CSS Rounded Corners, CSS Frames, CSS Sprites, CSS Tables, CSS Typography and CSS Forms. Grid and Layout Tools and Generators The 1KB CSS Grid Pin It This is a fresh take on the CSS grid. It can be used to streamline page templates for content management systems, its mission is to be lightweight.
Jan 13 2008 CSS has fundamentally changed web design, it has provided designers with a set of properties that can be tweaked to make various techniques to make your pages just look right. Today we are presenting a round-up of 101 CSS techniques designers use all the time. Definitely worth taking a very close look at! This is just the first series , the second part will be coming soon, stay tuned and Enjoy!
The second version of the CSS Cheat Sheet, a quick reference guide for CSS, listing selector syntax, properties, units and other useful bits of information. Get It Today! Including: - CSS Selectors and Pseudo-Selectors - CSS Properties - CSS Units - CSS Box Model Buy Now for just $2! Overview
This article features a huge amount of Photoshop web design tutorials, which will teach you simple effects which can be combined together in order to create a great website design. Theses tutorials are perfect for first time Photoshop users because there short and sweet. I hope you enjoy the article and feel free to leave a comment below.