Writing
Structure is something that every agent and executive in Hollywood talks about, and that all of us teachers/authors/consultants/gurus/whatever go on and on about, to the point that it can seem complicated, intricate, mysterious and hard to master. So I want present plot structure in a way that simplifies it – that will at least give you a starting point for properly structuring your screenplay without overwhelming you with rules and details and jargon.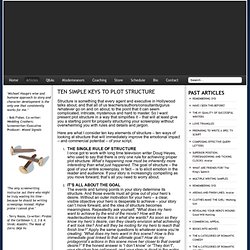 TEN SIMPLE KEYS TO PLOT STRUCTURE
Fiction Writing Exercises - Handouts - The Writing Center - The University of Iowa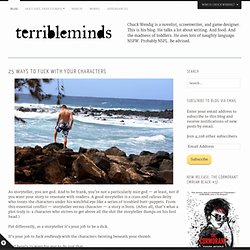 25 Ways To Fuck With Your Characters
As storyteller, you are god. And to be frank, you're not a particularly nice god — at least, not if you want your story to resonate with readers. A good storyteller is a crass and callous deity who treats the characters under his watchful eye like a series of troubled butt-puppets. From this essential conflict — storyteller versus character — a story is born.
1001 Secrets of Successful Writers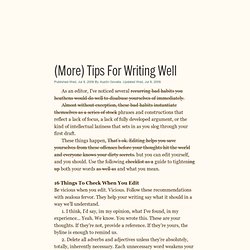 (More) tips for writing well (Austin Govella at Thinking and Making)
Published Wed, Jul 8, 2009 by Austin Govella.
Write to Done | Unmissable articles on writing
How to Write a Book Now -- Tools for Emerging Authors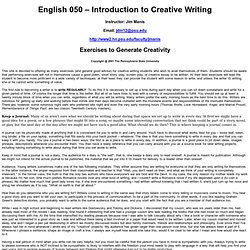 Exercises in Writing for Beginning Writers
Instructor: Jim Manis Email: jdm12@psu.edu http://www2.hn.psu.edu/faculty/jmanis