Writing
Structure is something that every agent and executive in Hollywood talks about, and that all of us teachers/authors/consultants/gurus/whatever go on and on about, to the point that it can seem complicated, intricate, mysterious and hard to master. So I want present plot structure in a way that simplifies it – that will at least give you a starting point for properly structuring your screenplay without overwhelming you with rules and details and jargon. Here are what I consider ten key elements of structure – ten ways of looking at structure that will immediately improve the emotional impact – and commercial potential – of your script. THE SINGLE RULE OF STRUCTURE I once got to work with long time television writer Doug Heyes, who used to say that there is only one rule for achieving proper plot structure: What's happening now must be inherently more interesting than what just happened.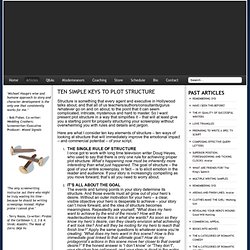 TEN SIMPLE KEYS TO PLOT STRUCTURE
Fiction Writing Exercises - Handouts - The Writing Center - The University of Iowa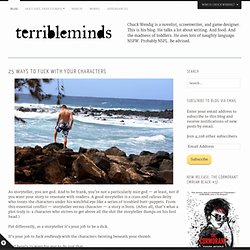 25 Ways To Fuck With Your Characters
As storyteller, you are god. And to be frank, you're not a particularly nice god — at least, not if you want your story to resonate with readers. A good storyteller is a crass and callous deity who treats the characters under his watchful eye like a series of troubled butt-puppets. From this essential conflict — storyteller versus character — a story is born.
1001 Secrets of Successful Writers
There are new avenues appearing every day for writers in this explosive era of self publishing. One of the most interesting is Wattpad, a Canadian based company that promotes itself as 'YouTube for ebooks'. Here's the link: Writers first make their stories available through Wattpad.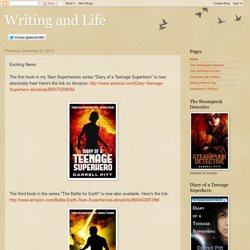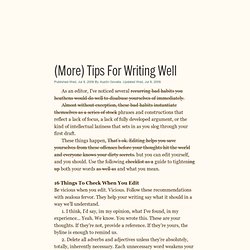 (More) tips for writing well (Austin Govella at Thinking and Making)
Published Wed, Jul 8, 2009 by Austin Govella. Updated Wed, Jul 8, 2009. As an editor, I've noticed several recurring bad habits you heathens would do well to disabuse yourselves of immediately. Almost without exception, these bad habits instantiate themselves as a series of stock phrases and constructions that reflect a lack of focus, a lack of fully developed argument, or the kind of intellectual laziness that sets in as you slog through your first draft. These things happen, That's ok.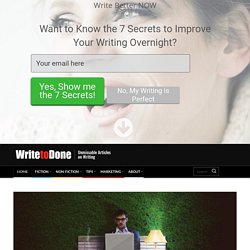 Do you find yourself struggling to write? Sometimes, negative thoughts make it difficult for us to write. As writers, part of our job seems to be to struggle against ourselves. But it doesn't have to be so hard. You can't avoid the struggle, but it doesn't have to paralyze you from doing the work you love. You can fight these negative thoughts – and writer's block – using a few proven techniques.
Write to Done | Unmissable articles on writing
Learning how to write a book can seem like a daunting task. Whether you came to this site because you have an original idea you hope to turn into a nonfiction bestseller, or you want to learn how to write a novel without getting stuck after the first two chapters, we're here to help. As lifelong writers who entered the book writing business after decades of artistic floundering, we know too well the difficulties you face when writing a book for the first time…or even the second time (say, when your publisher wants you to churn out a quick follow-up to your first success). We understand that a great book must be original – both in content and voice, and that you must let your passionate muse take you on a journey towards a book that is truly unique.
How to Write a Book Now -- Tools for Emerging Authors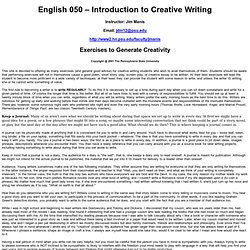 Exercises in Writing for Beginning Writers
Instructor: Jim Manis Email: jdm12@psu.edu http://www2.hn.psu.edu/faculty/jmanis