Utilities
Free Registry Defrag - Quicksys RegDefrag. Registry Defrag - Free windows registry defrag software. CGSecurity. Glasnost: Test if your ISP is shaping your traffic. The goal of the Glasnost project is to make ISPs' traffic shaping policies transparent to their customers.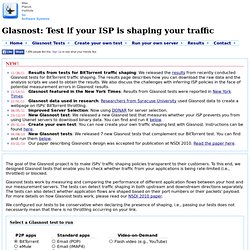 To this end, we designed Glasnost tests that enable you to check whether traffic from your applications is being rate-limited (i.e., throttled) or blocked. Glasnost tests work by measuring and comparing the performance of different application flows between your host and our measurement servers. The tests can detect traffic shaping in both upstream and downstream directions separately. The tests can also detect whether application flows are shaped based on their port numbers or their packets' payload. VirtualBox. Xmarks | Bookmark Sync and Search. Darik's Boot And Nuke | Hard Drive Disk Wipe and Data Clearing.
How to reinstall and restore your Windows PC in 8 easy steps. By Lincoln Spector December 26, 2008 12:00 PM ET PC World - Maybe your PC won't boot.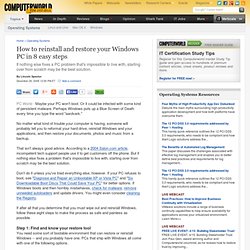 Or it could be infected with some kind of persistent malware. Perhaps Windows puts up a Blue Screen of Death every time you type the word "aardvark. "
---