Web 2.0
Using Web 2.0 to Make Libraries More User-Oriented: Outcomes from a Case Study at Loughborough University Library (UK) : Libraries Driving Access to Knowledge. Twitter, lanzadera de herramientas sociales. Estos últimos meses no dejamos de oir de Pinterest e Instagram.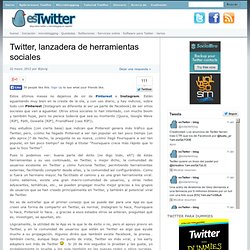 Están aguantando muy bien en la cresta de la ola, y con uso diario, y hay indicios, sobre todo con Pinterest (Instagram es diferente al ser ya parte de Facebook) de ser sitios sociales que van a aguantar. Otros sitios sociales lo han intentado, con mucho boom y también hype, pero no parece todavía que sea su momento (Quora, Google Wave (RIP), Path, Gowalla (RIP), FriendFeed (casi RIP)). Go2web20.
KillerStartups. International Society for Technology in Education | Home. Emily Chang - eHub. Artsy Editor Artsy Editor is an advanced full-screen WordPress WYSIWYG editor.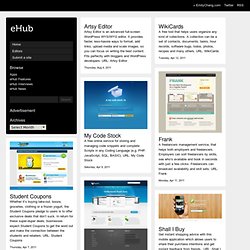 It provides faster, less-hassle ways to format, add links, upload media and scale images, so you can focus on writing the best content. O'Reilly. Social Media News and Web Tips – Mashable – The Social Media Gui.
---