Web 2.0
Using Web 2.0 to Make Libraries More User-Oriented: Outcomes from a Case Study at Loughborough University Library (UK) : Libraries Driving Access to Knowledge
Estos últimos meses no dejamos de oir de Pinterest e Instagram. Están aguantando muy bien en la cresta de la ola, y con uso diario, y hay indicios, sobre todo con Pinterest (Instagram es diferente al ser ya parte de Facebook) de ser sitios sociales que van a aguantar. Otros sitios sociales lo han intentado, con mucho boom y también hype, pero no parece todavía que sea su momento (Quora, Google Wave (RIP), Path, Gowalla (RIP), FriendFeed (casi RIP)).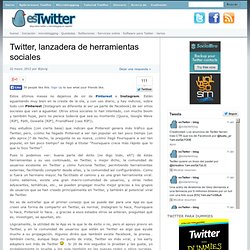 Twitter, lanzadera de herramientas sociales
Artsy Editor Artsy Editor is an advanced full-screen WordPress WYSIWYG editor. It provides faster, less-hassle ways to format, add links, upload media and scale images, so you can focus on writing the best content.