Mobile Devices
HP TouchPad review | from TechRadar UK's expert reviews of Tablets. When HP bought Palm, it was widely considered to have been mostly fuelled by the desire to acquire the webOS operating system.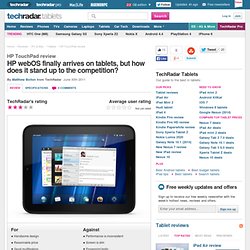 The Pre and Pixi phones all ran the software, but after the iPad was introduced, many people had hopes that it would soon make its way to tablets. In particular, the powerful and flexible multitasking that the Pre and Pixi were capable of was what got everyone so excited. Xoom vs iPad 2 vs Galaxy Tab 10.1 vs TouchPad vs PlayBook. When they were announced, the new Samsung Galaxy Tab 10.1 (P7100),HP TouchPad, the Motorola Xoom and BlackBerry PlayBook wiped the floor with the original iPad in terms of raw specification.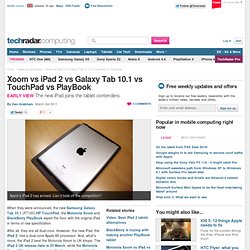 After all, they are all dual-core. However, the new iPad, the iPad 2, has a dual-core Apple A5 processor. And, what's more, the iPad 2 beat the Motorola Xoom to UK shops. The iPad 2 UK release date is 25 March, while the Motorola Xoom UK release date looks like the beginning of April. Top 200 best iPad apps 2011. If you've got yourself an iPad Air or new iPad mini, you'll want to start downloading the best iPad apps straight away.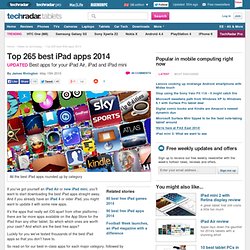 And if you already have an iPad 4 or older iPad, you might want to update it with some new apps. It's the apps that really set iOS apart from other platforms - there are far more apps available on the App Store for the iPad than any other tablet. 10 apps for expanding your mind. 6.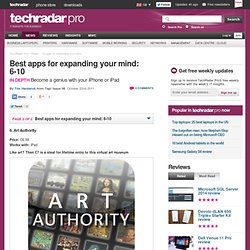 Art Authority Price: £6.99 Works with: iPad Like art? Then £7 is a steal for lifetime entry to this virtual art museum Brick-and-mortar museums often compete for famous artworks, making complete collections hard to come by. List of Educational Apps. List of Great Apps for Education: ELA: Poetry Magnets Kindle Tales2go Shakespeare Pro Greek Mythology Shel Silverstein Instant Poetry Jules Verne Collection Poetry Jam MaxJournal Mad Libs LitCharts Vocab Free iBooks Free Books Math: Science: Add 10 Brain Pop Addition Under the Sea Compass Alien Kids Math Frog Dissection Math Bingo Google Earth Financial Football Go Sky Watch Hot Potato Algebra Molecules Lobster Diver NASA My Student Budget Oceans and Seas Rocket Math Planets Tangram Video Science Quick Graph Particle Zoo Data Analysis 3D Sun Calculator HD 3D Brain Sudoku iOrtho ifactor Geared HD Convert Units Stat Viz Pageonce.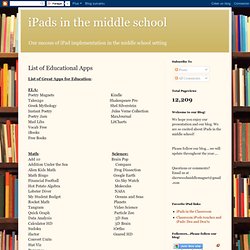 Adobe Flash Player leaks for Motorola Xoom, we go hands-on (update: more video!) March 18th may seem like an eternity if you expected your Motorola Xoom to come with Adobe Flash on day one.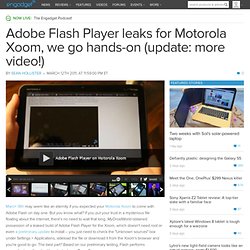 But you know what? If you put your trust in a mysterious file floating about the internet, there's no need to wait that long. MyDroidWorld obtained possession of a leaked build of Adobe Flash Player for the Xoom, which doesn't need root or even a preliminary update to install -- you just need to check the "Unknown sources" box under Settings > Applications, sideload the file or download it from the Xoom's browser and you're good to go. The best part? iPad gets Flash yet again with iSwifter app, Android version coming soon (hands-on) Ever since Skyfire brought Flash to the iPad with its server-side solution, we've had a feeling that others would try to emulate the experience and satisfy the general public's desire for the venerable format on Apple's tablet. iSwifter is another entrant to the space, and its app claims to allow access to any Flash content on the web -- a lofty claim indeed.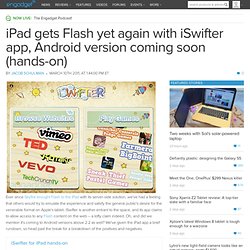 Oh, and did we mention it's coming to Android versions above 2.2 as well? We've given the iPad app a brief rundown, so head past the break for a breakdown of the positives and negatives. iPad Apps. How do I get Apps to this device?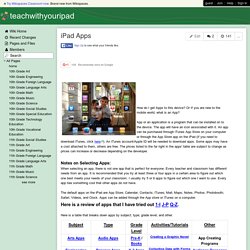 Or If you are new to the mobile world, what is an App? App or an application is a program that can be installed on to the device. The app will have an icon associated with it.
---