Twitter "Consumption"
Feedly: a magazine-like start page. Is feedly blocked?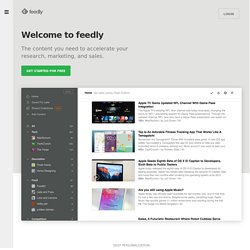 Feedly is not able to load. It is probably because one of your extensions is blocking it. TLISTS - Coming Soon. TweetDeck. Listorious: Discover the Best Twitter Lists. Listimonkey.com - Google Alerts for Twitte. OneRiot.com – Realtime Search for the Realtime Web. Topsy - A search engine powered by tweets.
TweetMeme - Search and Retweet the Hottest Stories on Twitter. Tweetwally - Create a Tweetwall to Organize and Present Tweets. Seesmic. Sency - What's Going On? Lazyfeed. Welcome to HootSuite - The Professional Twitter Client. » twidroid - the twitter & identi.ca client application for andr. Collecta.
---