Accessories
Beaded jewelry: how to braid cabochons - crafts ideas. Beaded jewelry: how to braid cabochons Due to numerous requests of workers spread a master class on how I entwine cabochons.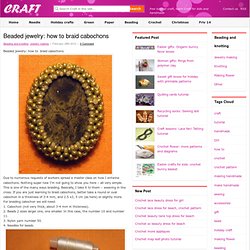 Nothing super new I'm not going to show you here – all very simple. DIY Friendship Bracelet - Honestly WTF. For several months now, we've been receiving emails requesting a friendship bracelet DIY.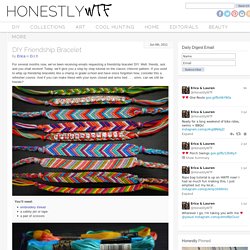 Well, friends, ask and you shall receive! Today, we'll give you a step by step tutorial on the classic chevron pattern. If you used to whip up friendship bracelets like a champ in grade school and have since forgotten how, consider this a refresher course. And if you can make these with your eyes closed and arms tied . . . umm, can we still be friends? You'll need:embroidery threada safety pin or tapea pair of scissors. Patterns - free patterns - cocoknits by julie weisenberger.
Loading...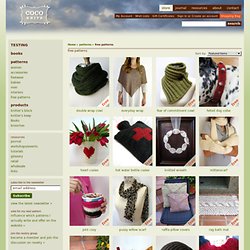 Please wait... resources. DIY Braided Bead Bracelet - Honestly WTF - StumbleUpon. It's been awhile since our last bracelet DIY.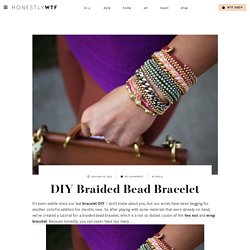 I don't know about you, but our wrists have been begging for another colorful addition for months now. So after playing with some materials that were already on hand, we've created a tutorial for a braided bead bracelet, which is a not so distant cousin of the hex nut and wrap bracelet. Do stuff! & Ten minute no-sew recycled t-shirt bag! - StumbleUpon. Tutorial time!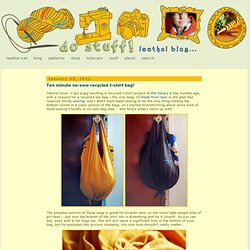 I got a gig teaching a recycled t-shirt project at the library a few months ago, with a request for a recycled tee bag – the only bags I'd made from tees in the past had required sturdy sewing, and I didn't want hand-sewing to be the only thing holding the bottom closed in a class version of the bags, so I started brainstorming about some kind of hand-sewing-friendly or no-sew bag idea…. and here's what I came up with! The simplest version of these bags is great for smaller tees, or the more light-weight kind of girl-tees – just turn the bottom of the shirt into a drawstring and tie it closed! As you can see, even with a not huge tee, this will still leave a significant hole in the bottom of your bag, but for purposes like grocery shopping, this size hole shouldn't really matter… But to make smaller holes, just make more than one of them!
Zipper Bracelet | Version | Cut Out + Keep - StumbleUpon. Better than Tiffanys. Have some spare time?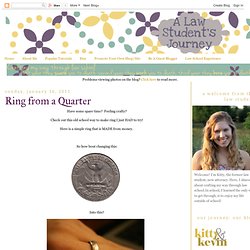 Feeling crafty? Check out this old school way to make ring I just HAD to try! No-Sew Fabric Flower Brooch and Hair Clip Tutorial. How To Tuesday: My Sweet Josephine. 28Jun/11 After seeing Kristin's friendship bracelet giveaway on Idle Wife, I've hauled out my old bracelet books and thread from when I was a kid.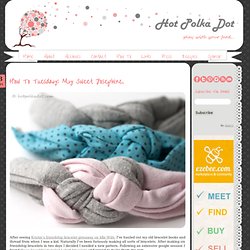 Naturally I've been furiously making all sorts of bracelets. After making six friendship bracelets in two days I decided I needed a new pattern. Following an extensive google session I found these beautiful recycled t-shirt bracelets and vowed to make them my own. And now you can too! Lovely Wire Knot Ring Tutorial. You can make this lovely ring (or a version of this design) yourself, using just some basic tools, wire and a lip balm!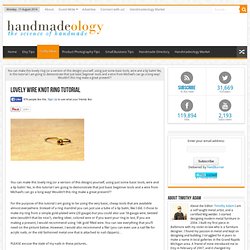 Yes, in this tutorial I am going to demonstrate that just basic beginner tools and a wire from Michael's can go a long way! Wouldn't this ring make a great present?? For the purpose of this tutorial I am going to be using the very basic, cheap tools that are available almost everywhere. Summer bracelets DIY. When M. came home from her camp with school, she showed me this yellow bracelet she made with 'scoubidoo' strings.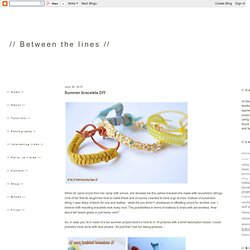 One of her friends taught her how to make these and of course I wanted to have a go at it too. Instead of scoubidou string I used strips of fabric for one and leather - what did you think?! - shoelaces in offsetting colors for another one. I believe both resulting bracelets look really nice. T-Shirt Refashion: Jersey Necklace. Sometimes I feel like I ride on the coattails of creative people.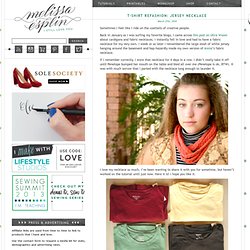 Back in January as I was surfing my favorite blogs, I came across this post on Ultra Vroom about cardigans and fabric necklaces. I instantly fell in love and had to have a fabric necklace for my very own. Re-purposing: Tshirts into 5-strand-braided-headbands. I was walking through Target a few weeks ago and noticed this little knit fabric headband that was not just braided together…….but woven. I decided they were charging way too much for something that could be made with t-shirt scraps. And that means free. So there you have it. A nice and easy project to give my bad-hair-day head some love. Simply Vintagegirl Blog & Blog Archive & Tutorial: How to Make Lovely Fabric Flowers - StumbleUpon.
29 May 2010 These elegant fabric flowers are very simple to make . . . and only take a few basic supplies. The finished product is delightfully lovely, and at times can look like a real flower! Every flower will turn out differently and that is part of the beauty! If you haven't used those tea lights in a while, now's the time! Delightfully Tacky: Braided Headband DIY from A Beautiful Mess. Hi there! This is Elsie and Emma from A Beautiful Mess. We had some leftover floral tights that we decided to restyle into a cute headband. This would be a great project if you have a few pairs of tights that have gotten runs in them but you don't want to just throw them out. V and Co how to: jersey knit bracelet - StumbleUpon. I don't know what it is about this time of year that makes me just want to have my bare feet in the sand, be watching the sun setting into the ocean, and breathing in the warm salty air of the beach...as i get older, more and more i find myself missing that place i used to go to almost every.single.day. as a teen.
(my skin doesn't miss it. as a matter of fact, i now wish i listened more and DID put SPF on my face...hindsight is 20/20). my mom calls me from her walk on the beach almost every morning... *sigh*yeah, i get a little homesick around this time of the year. heck on my pinterest my "dreaming of summer" has the most pictures in it. ah yes. i miss my ocean. case in point. this bracelet, brought a flood of memories, not because i used to have one like it but because i can totally see me wearing it by the beach, not caring that it's gotten salty and wet, because i can totally make another one in like less than 5 minutes flat when i get home.
D.I.Y FRIDAY.
---