Society Politics & Economy
Infographic of the Day: How the Global Food Market Starves the Poor. To understand the complexities of the international food market--and how traders in Chicago can cause Africans to starve--you could get a ph.D. in economics, or read a 400-page report from the World Bank.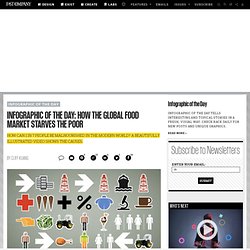 Or you watch this superb nine minute video, directed by Denis van Waerebeke. Though ostensibly created for a science show in Paris for 12 year olds, it's actually probably waaaay over a kid's head. Stratégies de Manipulation. Silence-Is-A-War-Crime.jpg (Image JPEG, 700x467 pixels) Well drawn explanation on what motivates us.
---