Music
‪Sunset Melodies # 14 - Progressive House‬‏
Complete History Of The Soviet Union, Arranged To The Melody Of Tetris
This is hugely clever, highly entertaining and extremely funny – and you don't get that often, on or off the internet. It is directed, animated, and edited by CHRIS LINCÉ and the music is supplied by Pig with the Face of a Boy. In the space of just over six minutes you will get a précis of the entire history of the Soviet Union –all done to a marvelously melodic Tetris soundtrack. What an unbeatable combination! You will find yourself tapping your feet as the decades whiz by, from Lenin to Gorbachev and, as I did, wincing a little at the ironies of history.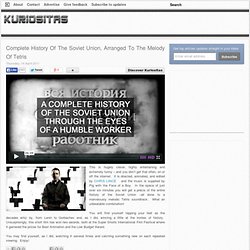 Keep Shelly in Athens - Cremona Memories
Kwoon - Schizophrenic
This Will Destroy You - Threads
Melissmell Aux Armes !
l'italiano vero
► I Can Feel A Hot One by Manchester Orchestra | I'm working on getting over you | dlou2 | 8tracks
Mickael Miro - L'horloge Tourne
Music Clip】‬‏
Paul Kalkbrenner - Azure‬‏
Best Acoustic Songs Ever – Numbers 50-59 | Acoustic Guitar Music | TopAcousticSongs.com
Best Acoustic Songs Ever – Numbers 50-59 | Acoustic Guitar Music | TopAcousticSongs.com
Adriano Celentano - Svalutation
Set Fire to Flames - Steal Compass