Maquetas
STITX. STITX is a stick-on organizer for your belongings and gadgets necessary for work on-the-go.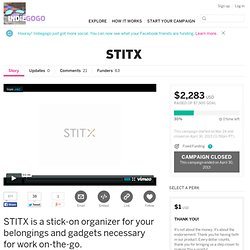 Dear Funders, 13" STITX is now available! Apologies for the confusion, we've modified the perks title to make it easier for you to select options. Please do not worry, if you've funded us before we updated, you will still receive your STITX and the only difference in the updated perks is the sizing. Please email us at askjacanything if you have any queries!
House Rings por CliveRoddy en Etsy. Adorn your knuckles with tiny rooftops by sporting these thoughtfully designed, hand painted House rings.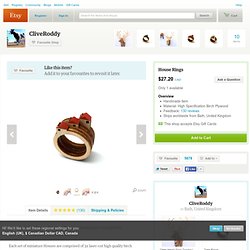 Each set of miniature Houses are comprised of 3x laser-cut high quality birch plywood rings.Each House is a slightly different size and position giving an illusion of depth whilst allowing your to arrange your rings as you like. The bright red rooftops are carefully hand painted with a durable enamel finish before being wrapped in their own uniquely designed protective packaging. Wear 1x ring on its own, or 3x rings together or on different fingers to achieve multiple looks. House rings are designed to be fully interchangeable with the other sets of rings for sale in my shop - Tree Rings & Mountain Rings (follow the below links). Colortoys | brinca dada. Burgo from Brinca Dada is one of four new "Colortoys" that allow children to explore the basics of color while developing their fine motor skills.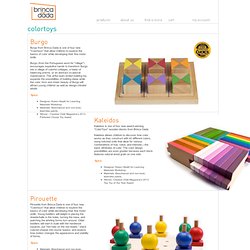 Burgo (from the Portuguese word for "village") encourages inquisitive hands to transform Burgo into a village of colorful cottages, a tower of balancing prisms, or an abstract sculptural masterpiece. This artful open-ended building toy expands the possibilities of building ideas while the color, form and sheer beauty of Burgo will attract young children as well as design-minded adults. LaserOrigami: laser-cutting 3d objects. Niklas Roy: Cardboard Plotter. Cardboard Plotter Mechanical plotting device When I gave a workshop at the School of Art and Design in Offenbach about building digital devices out of cardboard, the students asked me to build a machine as well.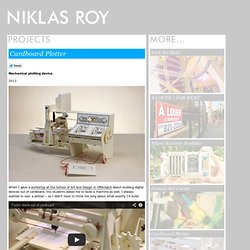 The Treehouse at Yale by Griffin Collier. Two New Goals: Lumber Upgrade: If we make it to $10,500, we'll be able to upgrade the decking of the treehouse.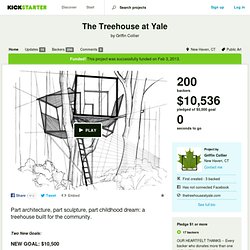 We are now looking at a number of naturally resistant soft and hardwoods. Instead of pressure treated pine, The Treehouse could have a beautiful redwood deck. If we reach $10,500, Every Backer will receive a set of professional photographs of the finished structure. ~ / ~ : Krister Olsson. Resultados de la Búsqueda de imágenes de Google de. DESIGNCAM - Services - Topographical Maps. Wooden toys for the 21st century. Beloved of middle class parents everywhere – if not their kids – wooden toys have largely looked to the past.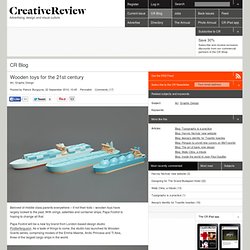 With oilrigs, satellites and container ships, Papa Foxtrot is hoping to change all that. Papa Foxtrot will be a new toy brand from London-based design studio Postlerferguson. As a taste of things to come, the studio has launched its Wooden Giants series, comprising models of the Emma Maersk, Arctic Princess and TI Asia, three of the largest cargo ships in the world. "We are planning to take today's most fascinating and amazing technological achievements, like submarines, satellites, windmills, oilrigs amongst others and make them part of a growing collection of wooden toys which we will produce in small batches (for now)," explains Postlerferguson's Martin Postler.
Bianco Nero by NI&Co. Architects. Garments and accessories are sparingly displayed in a three-dimensional grid of white steel cubes at this boutique in Osaka by NI&Co.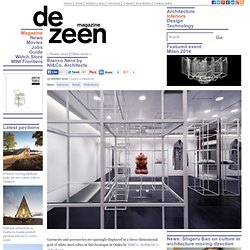 Architects (+ slideshow). Named Bianco Nero, which translates as 'Black White', the shop has a monochrome colour scheme to complement the selection of clothing on show. Some of the metal cubes contain glass shelves for hats and bags, while items of clothing hang from the horizontal elements. The Foldaway Bookshop by Campaign for LFA | Architecture. Campaign is a young and dynamic East-London based design workshop with an impressive portfolio.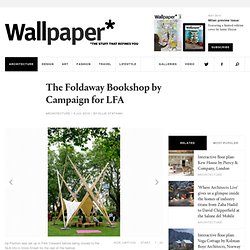 Their projects already include commissions for Burberry, as well as work with temporary structures and the retail sector, such as a pop-up store for Dr. Martens in Spitalfields Market and a temporary installation for Dunhill during New York Fashion Week earlier this year. Their Foldaway Bookshop project for this summer's LFA began as an initiative by Claire Curtice publicists and its aim was to engage London's architects. Designed in three weeks and constructed within three days from 58 sheets of cardboard, Foldaway was managed and stocked by RIBA Bookshops.
Cardboard Cinema For Short Films. Who says you cannot become the host of your very own pop-up movie theatre?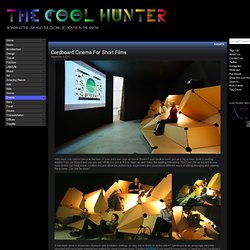 Just book a room, put up a big screen, build a seating theatre from cardboard and you are set. While you are at it, you might as well make the seating interesting. Don't just pile up square boxes upon boxes but have some creative fun and allow the audience to experiment and experience different ways of sitting, lounging and viewing the screen. Can this be done? It has been done in temporary museum and exhibition settings so why not at home or at the office? Resultados de la Búsqueda de imágenes de Google de. Resultados de la Búsqueda de imágenes de Google de.
Herramientas. Fotografia. Referentes. 1.8 million LEGOs used to create map of Japan. I know what you're thinking: ugh, another LEGO project using a gazillion LEGOs.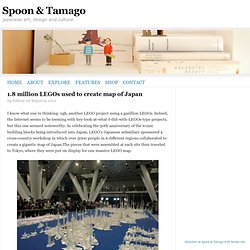 Indeed, the Internet seems to be teeming with hey-look-at-what-I-did-with-LEGOs-type projects, but this one seemed noteworthy. In celebrating the 50th anniversary of the iconic building blocks being introduced into Japan, LEGO's Japanese subsidiary sponsored a cross-country workshop in which over 5000 people in 6 different regions collaborated to create a gigantic map of Japan.The pieces that were assembled at each site then traveled to Tokyo, where they were put on display for one massive LEGO map. click images to enlarge Dubbed "Build Up Japan," the event – rather than recreating existing landmarks – encouraged kids to picture what they want Japan to look like, and to create imaginary structures.
---