SiSe Social Innov and Entrepreneurship
Do Something | Largest organization for teens and social cause. Volunteer, work, intern, organize, hire and connect. Change the world. Fellows. Ashoka Fellows are leading social entrepreneurs who we recognize to have innovative solutions to social problems and the potential to change patterns across society.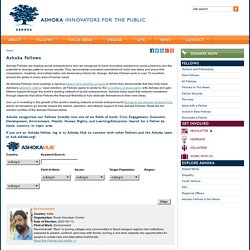 They demonstrate unrivaled commitment to bold new ideas and prove that compassion, creativity, and collaboration are tremendous forces for change. Ashoka Fellows work in over 70 countries around the globe in every area of human need. All Ashoka Fellows must undergo a rigorous search and selection process in which they demonstrate that they fully meet Ashoka's selection criteria . Use the filters below to search for Ashoka Fellows. Stanford Social Innovation Review: Ideas for Socially Responsible Businesses. Home | CASFS. Euclid.
---