SiSe Social Innov and Entrepreneurship
Ashoka Fellows are leading social entrepreneurs who we recognize to have innovative solutions to social problems and the potential to change patterns across society. They demonstrate unrivaled commitment to bold new ideas and prove that compassion, creativity, and collaboration are tremendous forces for change. Ashoka Fellows work in over 70 countries around the globe in every area of human need. All Ashoka Fellows must undergo a rigorous search and selection process in which they demonstrate that they fully meet Ashoka's selection criteria . Use the filters below to search for Ashoka Fellows.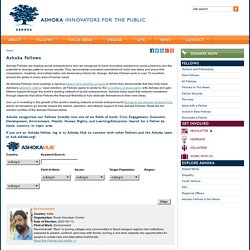 Fellows
Home | CASFS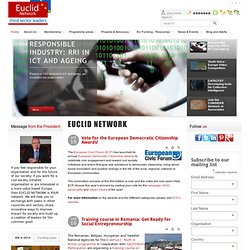 Euclid
Organised by ACCEDE Provence Entrepreneurs, Le Phare is the first Euro-Mediterranean competition for the creation of an enterprise open to students and job-seekers. Now in its 16th consecutive year, this start-up competition is seeking entries for Le Phare 2014 until 15 January 2014! ACCEDE Provence Entrepreneurs's ambition is to turn today's job-seekers into tomorrow's job creators. The competition has already created 213 jobs in the Provence-Alpes-Côte d'Azur region and the 2013 edition rewarded 6 promising projects (3 in the job-seekers category and 3 in the student category) with funding to develop their proposals. Read more... The European Commission wants to understand what citizens want in relation to EU affairs in the future.