SiSe Social Innov and Entrepreneurship
Ashoka Fellows are leading social entrepreneurs who we recognize to have innovative solutions to social problems and the potential to change patterns across society. They demonstrate unrivaled commitment to bold new ideas and prove that compassion, creativity, and collaboration are tremendous forces for change. Ashoka Fellows work in over 70 countries around the globe in every area of human need. All Ashoka Fellows must undergo a rigorous search and selection process in which they demonstrate that they fully meet Ashoka's selection criteria . Use the filters below to search for Ashoka Fellows.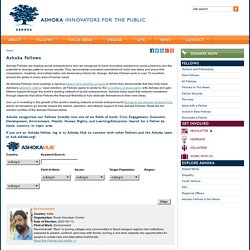 Fellows
Home | CASFS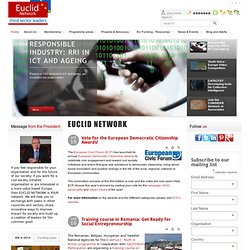 Euclid
TheEuropean Civic Forum (ECF)has launched its annual European Democratic Citizenship Awards to celebrate civic engagement and reward civil society initiatives and actors that give real substance to democratic citizenship, bring about social innovation and positive change in the life of the local, regional, national or European communities. The nomination process of this first edition is over and the votes are now open! Help ECF choose this year's winners by casting your vote for the campaign, NGO, personality and citizen media of the year! For more information on the awards and the different categories, please visit ECF's website. The Romanian, Belgian, Hungarian and Swedish National Agencies for the Erasmus+: Youth in Action programme in cooperation with SALTO-Youth Participation are organising a training course on social entrepreneurship, which will take place on 9-14 June 2014 in Predeal (Romania). Read more...