Reference
Famous Quotes at BrainyQuote. Dictator homepage. On-screen reading made easy Dictator is a program for on-screen reading of text files, developed with the intention of making it easier to read some of the fine electronic texts available on the net, such as those produced by The Gutenberg Project.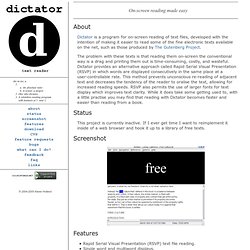 The problem with these texts is that reading them on-screen the conventional way is a drag and printing them out is time-consuming, costly, and wasteful. Dictator provides an alternative approach called Rapid Serial Visual Presentation (RSVP) in which words are displayed consecutively in the same place at a user-controllable rate. This method prevents unconscious re-reading of adjacent text and decreases the tendency of the reader to oralise the text, allowing for increased reading speeds. Unscramble.net.
The World Clock – Time Zones. Urban Dictionary, March 16: tranq. Wikipedia. The free library. Instant Grammar Check - Online Proofreading | Grammarly.
Dictionary.com | Find the Meanings and Definitions of Words at Dictionary.
Presentations
---