Reference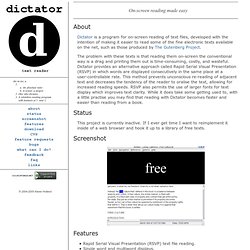 dictator homepage
On-screen reading made easy Dictator is a program for on-screen reading of text files, developed with the intention of making it easier to read some of the fine electronic texts available on the net, such as those produced by The Gutenberg Project. The problem with these texts is that reading them on-screen the conventional way is a drag and printing them out is time-consuming, costly, and wasteful. Dictator provides an alternative approach called Rapid Serial Visual Presentation (RSVP) in which words are displayed consecutively in the same place at a user-controllable rate. This method prevents unconscious re-reading of adjacent text and decreases the tendency of the reader to oralise the text, allowing for increased reading speeds.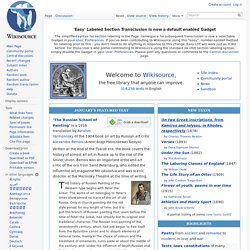 Grab a download! At the little town of Vevay, in Switzerland, there is a particularly comfortable hotel. There are, indeed, many hotels; for the entertainment of tourists is the business of the place, which, as many travellers will remember, is seated upon the edge of a remarkably blue lake—a lake that it behooves every tourist to visit. The shore of the lake presents an unbroken array of establishments of this order, of every category, from the "grand hotel" of the newest fashion, with a chalk-white front, a hundred balconies, and a dozen flags flying from its roof, to the little Swiss pension of an elder day, with its name inscribed in German-looking lettering upon a pink or yellow wall, and an awkward summer-house in the angle of the garden.
Gotcha! Grammarly texts are already correct You cannot improve on perfection. We have already proofread Grammarly website and fixed all mistakes.