Reference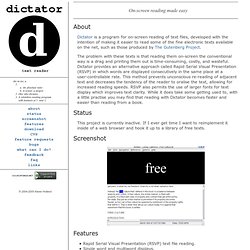 dictator homepage
On-screen reading made easy Dictator is a program for on-screen reading of text files, developed with the intention of making it easier to read some of the fine electronic texts available on the net, such as those produced by The Gutenberg Project. The problem with these texts is that reading them on-screen the conventional way is a drag and printing them out is time-consuming, costly, and wasteful. Dictator provides an alternative approach called Rapid Serial Visual Presentation (RSVP) in which words are displayed consecutively in the same place at a user-controllable rate. This method prevents unconscious re-reading of adjacent text and decreases the tendency of the reader to oralise the text, allowing for increased reading speeds.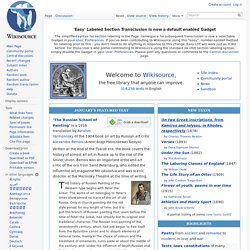 Grab a download! It is about a privateer named Conrad, who is rejected by society as a young man because of his actions, and who later fights against mankind, although not against women. The tale is divided into three cantos. January 2014 is the bicentennial of the publication of this work.
Grammar Checker Grammarly's online grammar checker is the most accurate tool for grammar correction on the market. Also, because the grammar checker is thorough, customizable, and educational, it is an outstanding tool for anyone who writes and wants to improve his or her writing — students, bloggers, writers, and professionals. The Grammarly grammar checker is a comprehensive grammar editing tool that checks your text for the proper use of more than 250 common and advanced grammar rules, including everything from subject-verb agreement to article use to modifier placement.