Google Apps
Google Apps for Education Jan 22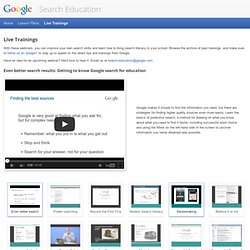 Live Training – Search Education – Google
With these webinars, you can improve your own search skills and learn how to bring search literacy to your school. Browse the archive of past trainings, and make sure to follow us on Google+ to stay up to speed on the latest tips and trainings from Google. Even better search results: Getting to know Google search for education Google makes it simple to find the information you need, but there are strategies for finding higher quality sources even more easily. Learn the basics of predictive search, a method for drawing on what you know about what you need to find it faster, including successful word choice and using the filters on the left-hand side of the screen to uncover information you never dreamed was possible. Power searching: Advanced Google search for education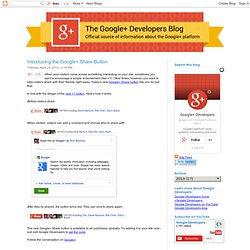 When your visitors come across something interesting on your site, sometimes you want to encourage a simple endorsement (like +1). Other times, however, you want to help visitors share with their friends, right away. Today's new Google+ Share button lets you do just that. In line with the design of the new +1 button, here's how it looks: Before visitors share:
Introducing the Google+ Share Button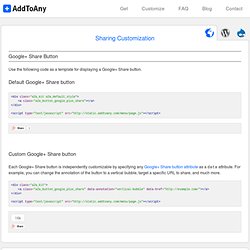 Use the following code as a template for displaying a Google+ Share button. Default Google+ Share button Add the following HTML code, for example, to the "Service Buttons HTML code" box in Drupal Configuration > System > AddToAny > Buttons > Service Buttons. In WordPress, the Google+ Share button is available by clicking the "Add/Remove Services" button in Settings > AddToAny > Standalone Buttons. Custom Google+ Share button Each Google+ Share button is independently customizable by specifying any Google+ Share button attribute as a data attribute.
Share - Google+ Share Button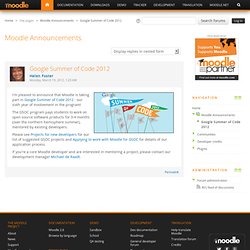 Google Summer of Code 2012
I'm pleased to announce that Moodle is taking part in Google Summer of Code 2012 - our sixth year of involvement in the program! The GSOC program pays students to work on open source software products for 3-4 months (over the northern hemisphere summer), mentored by existing developers. Please see Projects for new developers for our list of suggested GSOC projects and Applying to work with Moodle for GSOC for details of our application process. If you're a core Moodle developer and are interested in mentoring a project, please contact our development manager Michael de Raadt.
The Interesting Ways series continues to be a great example of crowdsourcing good quality classroom ideas and it has been a privilege connecting with all of the people who have taken time to add an idea. It is remarkable what can be achieved and created together if you give people the right way to do it. Thanks for all the help so far. Interesting Ways to…