Xls tips
Nous disposons en colonne A d'une série de codes comportant des chiffres et des lettres.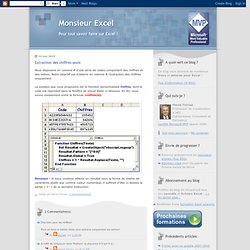 Monsieur Excel - pour tout savoir faire sur Excel !
Utiliser des graphiques sparkline pour afficher les tendances des données - Excel
Nouveauté dans Microsoft Excel 2010, un graphique sparkline est un graphique minuscule dans une cellule de la feuille de calcul qui propose une représentation visuelle des données.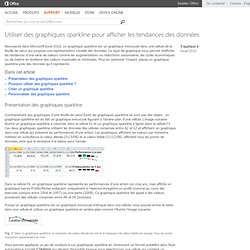 Travailler sur les dates avec Excel | CommentCaMarche
Vous avez une date en C3 par exemple, et vous voulez connaitre : le N° de la semaine correspondant à cette date : = NO.SEMAINE(C3;2) Nota : 2 correspond à un système de semaines commençant le Lundi, et 1 pour le Dimanche. la date de fin du mois : =FIN.MOIS(C32;0) Nota : 0 pour la fin du mois désigné. 1 pour la fin du mois suivant 2 pour la fin du mois d'aprés etc ....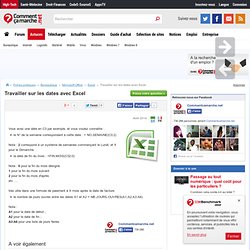 LIREDONNEESTABCROISDYNAMIQUE - Excel
Renvoie les données stockées dans un rapport de tableau croisé dynamique.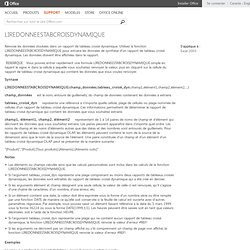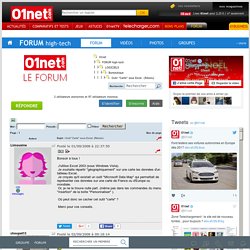 Vu sur un autre site: http://www.commentcamarche.net/forum/affich-2181096-excel-2003-datamap
Outil "Carte" sous Excel. (Résolu)
Excel 2010 Carte interactive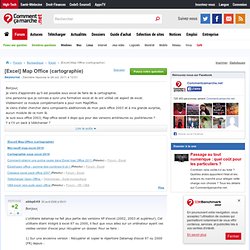 [Excel] Map Office (cartographie) | CommentCaMarche
Bonjour, L'utilitaire datamap ne fait plus partie des versions XP d'excel (2002, 2003 et supérieur). Cet utilitaire étant intégré à excel 97 ou 2000, il faut que vous alliez sur un ordinateur ayant ces vieilles version d'excel pour récupérer un dossier.
IMPORTANTE NOTE : Les utilisateurs d'Excel (débutants et experts) qui ont suivi mes deux cours ou qui ont travaillé avec moi sur des centaines de projets considèrent que la découverte la plus importante qu'ils ont faite est celle de SOMMEPROD .
La fonction SOMMEPROD dans Excel
SommeProd : Compter le nombre d'éléments répondant à une ou plusieurs conditions
Compter le nombre d'éléments différents dans une plage.
SommeProd : utilisation avancée
ShareThis | | Information Helpful?
Excel Random Formula/Functions: Pick a number, name or item at random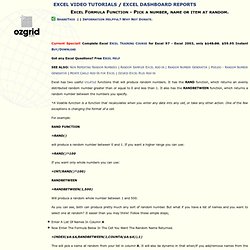 Adds the cells specified by a given criteria. Syntax
SUMIF - Excel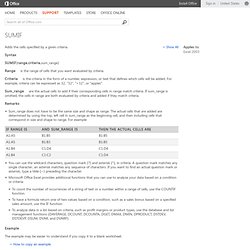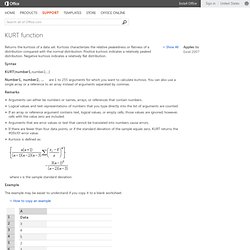 Returns the kurtosis of a data set.
KURT function - Excel
This article describes the formula syntax and usage of the SUMIFS function (function: A prewritten formula that takes a value or values, performs an operation, and returns a value or values.
SUMIFS function
This section describes the nine worksheet functions used for testing the type of a value or reference. Each of these functions, referred to collectively as the IS functions, checks the type of value and returns TRUE or FALSE depending on the outcome.
IS Functions
++ XLS FUNCTIONS English-French
fonctions XL en 9 langues
Comment gérer les doublons? Cette question est récurrente lorsque l'on souhaite traiter et analyser des données, que ce soit pour les compter, les filtrer, les regrouper ou les supprimer.
La gestion des doublons dans Excel
On a souvent besoin de récupérer des valeurs dans un tableau à partir d'un des éléments. Par exemple, dans un tableau contenant des références et des prix, comment connaître le prix sachant la référence ? Les fonctions RechercheH et RechercheV peuvent être utilisées dans ce but mais elles présentent des limitations importantes, notamment sur l'ordre des colonnes ou des lignes. La combinaison des fonctions INDEX et EQUIV peut sembler d'abord plus complexe mais elle s'avère bien plus puissante. La fonction INDEX INDEX(Tableau_de_référence;ligne;colonne)
La combinaison magique : INDEX + EQUIV | www.excelabo.net
Offset function
The OFFSET function is used to return the address of a cell or a range of cell through the use of a reference cell. If we know the cell or range beforehand, we are unlikely to use it at all. It is very useful in our spreadsheets when we do not know the cell or the range of cell in advance, especially in situations where you allow the spreadsheet to interact with the users such as preparing a business dashboard that reports on the performance of a product from a list.
Number Formats
Codes de format de nombre - Excel - Microsoft Office
Excel Count Functions -- Count Excel Cells
Count the occurrences
Excel COUNT UNIQUE TEXT IN COLUMN