Datamining
Les Systèmes d'Information Géographique pour l'analyse spatiale et la représentation des risques
Analyse spatiale, évaluation et cartographie du risque "glissement de terrain"
Présentation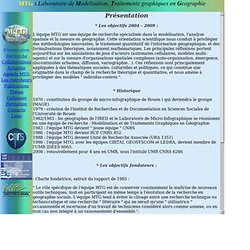 Laboratoire de modélisation et traitement graphique en géographie
Cartouche datamining Oracle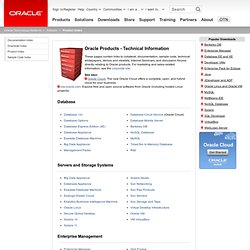 These pages contain links to collateral, documentation, sample code, technical whitepapers, demos and viewlets, Internet Seminars, and discussion forums directly relating to Oracle products. For marketing and sales-related information, see the corporate site . See also:
Oracle Spatial and Graph option includes advanced features for spatial data and analysis and for physical, network and social graph applications . Spatial Features The geospatial data features support complex geographic information systems (GIS) applications, enterprise applications, and location-based services applications, augmenting the Oracle Database Locator feature, which provides storage, analysis, and indexing of 2D location data accessible through SQL and standard programming languages.
Cartouche spatiale Oracle
Module de datamining spatial intégrable aux grand SIG
Kexen et Géoconcept développent un module de datamining spatial
We Revolutionized Predictive Analytics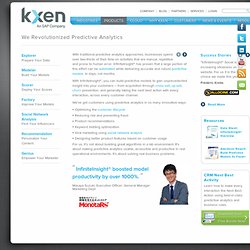 Site de l'université du Minnesota dédié au datamining spatial
Méthodollogie concernant le datamining spatial
Prototype de logiciel de datamining spatial : Geominer
An exciting and potentially far-reaching development in computer science is the invention and application of methods of machine learning (ML).
Machine d'apprentissage pour le datamining : Weka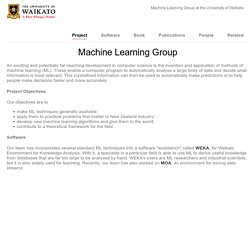 Support sur le datamining spatial
Un article de Wikipédia, l'encyclopédie libre. Les algorithmes génétiques appartiennent à la famille des algorithmes évolutionnistes . Leur but est d'obtenir une solution approchée à un problème d' optimisation , lorsqu'il n'existe pas de méthode exacte (ou que la solution est inconnue) pour le résoudre en un temps raisonnable. Les algorithmes génétiques utilisent la notion de sélection naturelle et l'appliquent à une population de solutions potentielles au problème donné. La solution est approchée par « bonds » successifs, comme dans une procédure de séparation et évaluation , à ceci près que ce sont des formules qui sont recherchées et non plus directement des valeurs.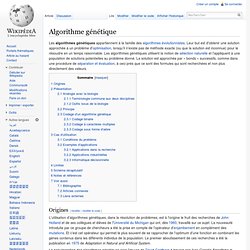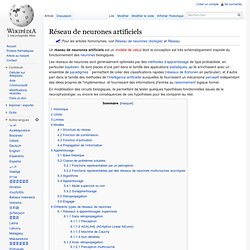 Un article de Wikipédia, l'encyclopédie libre. Un réseau de neurones artificiels est un modèle de calcul dont la conception est très schématiquement inspirée du fonctionnement des neurones biologiques.
Un article de Wikipédia, l'encyclopédie libre. L' exploration de données [ Note 1 ] , connue aussi sous l'expression de fouille de données , forage de données , prospection de données , data mining , ou encore extraction de connaissances à partir de données, « ECD » en français, « KDD » en anglais, a pour objet l'extraction d'un savoir ou d'une connaissance à partir de grandes quantités de données , par des méthodes automatiques ou semi-automatiques. L'utilisation industrielle ou opérationnelle de ce savoir dans le monde professionnel permet de résoudre des problèmes très divers, allant de la gestion de la relation client à la maintenance préventive, en passant par la détection de fraudes ou encore l'optimisation de sites web .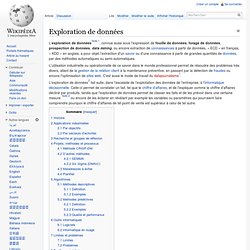 Présentation du datamining
Spatial network analysis software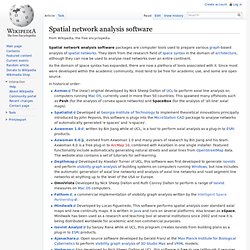 Spatial network analysis software packages are computer tools used to prepare various graph -based analysis of spatial networks .
This guide addresses the full spectrum of analytical techniques that are provided within modern Geographic Information Systems (GIS) and related geospatial software products. It is broad in its treatment of concepts and methods and representative in terms of the software that people actually use.
Geospatial Analysis: GIS and spatial analysis - tools, techniques, software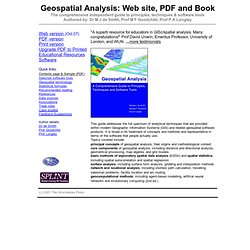 Global navigation, cartographie et traveaux de SIG pour le Maroc et la région du maghreb arabe.
L'espace
Projet Sigle : Systèmes et Infrastructures Géographiques LibrEs
What is FRAGSTATS? FRAGSTATS is a computer software program designed to compute a wide variety of landscape metrics for categorical map patterns.The original software (version 2) was released in the public domain during 1995 in association with the publication of a USDA Forest Service General Technical Report ( McGarigal and Marks 1995 ).
Logiciel d'analyse spatiale Fragstats
Crimestat, logiciel d'analyse spatiale dans le domaine criminel