Photography
Godspeed : Katrien Vermeire. "Using photography's fundamental ingredients of light and time, Katrien Vermeire allows the medium to make visible what would otherwise be invisible and catches the beauty of a special natural phenomenon.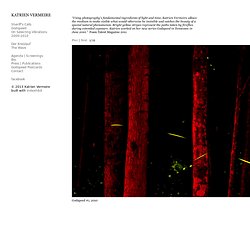 Bright yellow stripes represent the paths taken by fireflies during extended exposure. Katrien worked on her new series Godspeed in Tennessee in June 2010." Foam Talent Magazine 2011 Godspeed #1, 2010.
My sites
.:Capricious Magazine:. Startsida - Fotografiska - En världsplats för fotografi. 500 Photographers.
---