Vivian Maier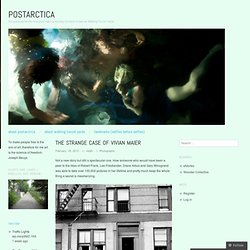 Not a new story but still a spectacular one. How someone who would have been a peer to the likes of Robert Frank, Lee Friedlander, Diane Arbus and Gary Winogrand was able to take over 100,000 pictures in her lifetime and pretty much keep the whole thing a secret is mesmerizing. Sept 28, 1959, 108th St. East, New York, NY Undated, New York, NY Vivian Dorothea Maier (February 1, 1926 – April 21, 2009) was an American amateur street photographer, who was born in New York City but grew up in France.
The Strange Case Of Vivian Maier
Anthony Lane: "Finding Vivian Maier" and "The French Minister" Reviews
Tall, awkward, and heavily shod, Vivian Maier was a nanny. Born in 1926, she never married, and had no children. Much of her working life was spent in Chicago. Toward the end, alone and truculent, she lived in Rogers Park, on the southwestern corner of Lake Michigan. A neighbor recalls her eating cold corned beef hash out of a can.
To Deepen the Mystery: The Self-Portaits of Vivian Maier
Diane Arbus said, "A photograph is a secret about a secret. The more it tells you, the less you know." The odyssey of Vivian Maier is proving to be further proof of this.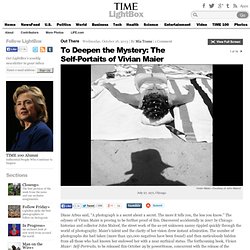 The photography of Vivian Maier - in pictures | Art and design | The Observer
Vivian Maier's extraordinary photographs of Chicago - feature | Art and design | The Observer
The story of Vivian Maier is so incredible that the man who discovered her says: "If you made this up for Hollywood it would be like, 'Oh, come on, that's too hard to believe.' She is," he adds, "the most riveting person I have ever encountered." This is 29-year-old John Maloof, a former estate agent from Chicago who has devoted the last four years to unravelling Maier's story.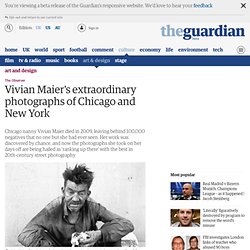 "Inventing Vivian Maier" by Abigail Solomon-Godeau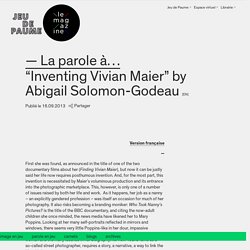 Version française First she was found, as announced in the title of one of the two documentary films about her (Finding Vivian Maier), but now it can be justly said her life now requires posthumous invention. And, for the most part, this invention is necessitated by Maier's voluminous production and its entrance into the photographic marketplace. This, however, is only one of a number of issues raised by both her life and work. As it happens, her job as a nanny – an explicitly gendered profession – was itself an occasion for much of her photography. It also risks becoming a branding moniker: Who Took Nanny's Pictures?
We hope you've enjoyed your 10 free articles this month. We know that is not enough and can seem a bit, well, limited, so why not try a digital subscription to Globe Unlimited and get: Award-winning Globe and Mail articles, photo galleries and exclusive videos Get the news that matters most to you through your own customized Dashboard
New doc exposes photo-snapping nanny Vivian Maier
The Secret City of Vivian Maier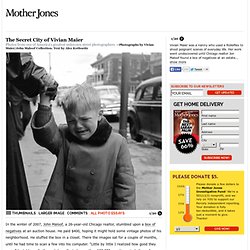 In the winter of 2007, John Maloof, a 26-year-old Chicago realtor, stumbled upon a box of negatives at an auction house. He paid $400, hoping it might hold some vintage photos of his neighborhood. He stuffed the box in a closet. There the images sat for a couple of months, until he had time to scan a few into his computer. "Little by little I realized how good they were," he told me. In the end, he collected more than 100,000 negatives, including a few thousand rolls of film.
The Best Street Photographer You've Never Heard Of
Vivian Maier/John Maloof Collection IT'S IMPOSSIBLE TO TAKE measure of Vivian Maier's photos without taking stock of her story. She was by all accounts remarkably private, someone who didn't always enjoy the company of other adults.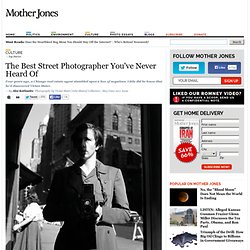 Finding Vivian Maier - Official Movie Trailer
VIVIAN MAIER: "STREET PHOTOGRAPHS"
The Still Unfolding Legend of Vivian Maier
When the amateur photographer Vivian Maier died in 2009, she left behind more than 120,000 negatives and, promising even greater discoveries, 2,000 undeveloped rolls of film, some of which sat untouched for more than 45 years. Last year, a couple hundred of these rolls, believed to have been shot in the 1960s and 1970s, mostly in the Chicago area, were finally developed. A selection of these images make their debut in this week's Look and another set can be seen on the Lens blog. What you can't see in this limited collection are the subjects that Maier continually revisited in her trove of negatives: fallen leaves, reflections, shadows, women's legs and, perhaps most curious of all, newspapers. There are hundreds of photographs of newspapers: stacks of them at newsstands, front pages crumpled up in trash bins, papers arranged on the floor.
Vivian Maier's Muse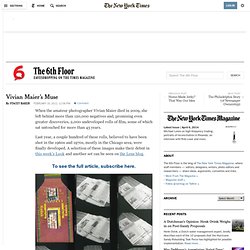 powerHouse Books, 2011. $39.95 Foreword by Geoff Dyer. ISBN: 978-1-57687-577-3 The term 'Street photography' carries a lot of connotations, and not all of them positive. Of the countless photographers given the label 'street photographer' the worst are opportunists - vultures feeding on the sad, the filthy and the violent. But the best are visual historians, and their work is timeless.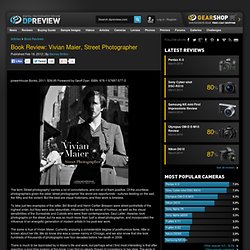 Book Review: Vivian Maier, Street Photographer
Photos From Jeff Goldstein's Vivian Maier Collection
In pictures: Vivian Maier's street photography
The undiscovered street photography of Vivian Maier
In 2007, Chicago Realtor John Maloof paid $400 at an auction for a storage locker filled with rolls of undeveloped film. He was searching for photos for a book project about his Chicago neighborhood of Portage Park. In a moment straight out of an episode of "Auction Hunters," Maloof discovered a treasure-trove of thousands of negatives that turned out to be from a nanny who took up street photography in her spare time yet kept most of her work hidden. The photographer was Vivian Maier.
Vivian Maier (1926-2009) had a talent for seeing. As she walked down the street, she not only avoided bumping into people and objects, she actually saw them in a way most people do not; she saw them in their particularity. We know this because more than 100,000 negatives of photographs she took were somewhat accidentally stumbled upon after her death and now form the basis of two concurrent gallery exhibitions, a photo book and two websites. There was a museum show earlier this year at the Chicago Cultural Center. There will be more.
Vivian Maier | The Nanny's Secret | By William Meyers
Lumière is pleased to announce that we are offering the work of Vivian Maier. This coincides with the November 2011, publication of Vivian Maier – Street Photographer, and numerous exhibitions from the John Maloof Collection. We currently have a supply of this book available for purchase, E-MAIL the gallery to reserve a copy. Maier's work was featured in our past exhibition Street Talk – the third installment of Lumiere's: Photography as Propaganda exhibition series. Her work continues to be the focus of positive reviews and media attention, a recent review in the New York Times can be seen here, (January 20, 2012 – opens new window).
Vivian Maier - Lumiere Announcement | Lumiere Fine Art Photography Gallery
I'm happy to see that the long awaited documentary Through A Lens Darkly: Black Photographers and the Emergence of a People is about to make its premiere at the Sundance Film Festival. This is great news for anyone who's remotely interested in photography or history. The Huffingtion Post is already calling it one of the "10 Must-See" films at this year's Sundance. The trailer is a terrific mini-documentary on its own: Through A Lens Darkly Trailer from Thomas Allen Harris on Vimeo.
John Edwin Mason: Documentary, Motorsports, Photo History