French1
Free online translator - online translations and dictionary - StumbleUpon. Lexique. Vocabulary Games and Resources. Pronunciator - Learn to Speak 60 Languages. Directions in French | Language for Travelers. Click on a phrase to hear it, then repeat the phrase out loud.Play the clip again.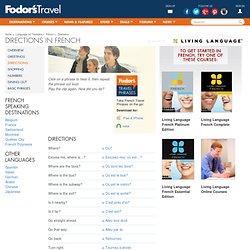 How did you do? Where? Où? French in a Click: French GCSE Edexcel and OCR vocabulary. Languages - French - Ma France. Digital Dialects language learning games. The French Experiment. Il était une fois, au milieu d'une forêt épaisse, une petite maison où habitait une jolie petite fille nommée Petit Chaperon Rouge.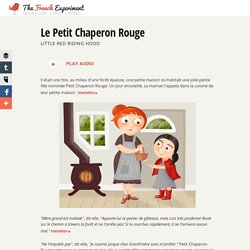 Un jour ensoleillé, sa maman l'appela dans la cuisine de leur petite maison. translation ▼▶ Once upon a time, in the middle of a dense forest, there was a small house, where lived a pretty little girl named Little Red Riding Hood. One sunny day, her mother called her into the kitchen of their little house. "Mère-grand est malade", dit-elle. Essential French Langauge Tools — La Belle in France - StumbleUpon. Free French Lessons - Learn French the easy way! - Lecciones de francés gratis - Aprender francés de manera fácil! Cursos gratis de Francés. Free Educational Videos for K-12 Students.
---
clarinette02 Feb 27 2012

Hi, saw you picked the FLE pearl. Could you let me know what you think about? Tkx clarinette02
---