Advice
Category September 11, 2009 See the 2012 edition: 10 Must Read Blogs for Entrepreneurs (2012 Edition)
& Blog Archive & The Planet Express Guide to Management - 33 HR Le...
The Planet Express Guide to Management – 33 HR Lessons from Futurama
Having never taken a business class in college I find that I read and listen to a lot of business books to round out my education. The books usually aren't "How to Manage Your Cash Flow" but rather get me to rethink the way I run my business , which--despite no business classes or diploma--continues to be in business 13 plus years after I started it. In that time, here are 13 of the books that had the biggest impact on how I run my business (in no particular order):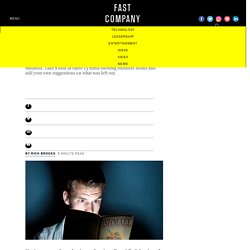 7 Marketing Links You'd Be Crazy to Ignore | Copyblogger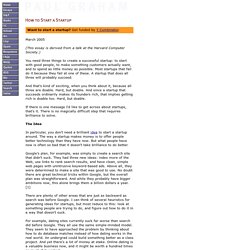 March 2005 (This essay is derived from a talk at the Harvard Computer Society.) You need three things to create a successful startup: to start with good people, to make something customers actually want, and to spend as little money as possible. Most startups that fail do it because they fail at one of these.
The 18 Mistakes That Kill Startups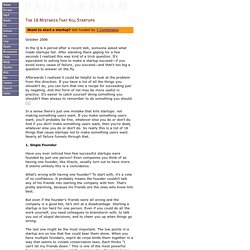 October 2006 In the Q & A period after a recent talk, someone asked what made startups fail. After standing there gaping for a few seconds I realized this was kind of a trick question.
Update : Also see our 40-minute interview on this topic. Picking a co-founder is your most important decision. It's more important than your product, market, and investors. The ideal founding team is two individuals, with a history of working together, of similar age and financial standing, with mutual respect. One is good at building products and the other is good at selling them.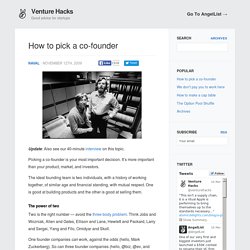 3 Ways to Get the Most from Your Team - Management Tip of the Day - August 15, 2011 - Harvard Business Review