Section 3
Free Pascal - Online documentation. Remark:you must have javascript and style sheets enabled in order to view the html documentation correctly.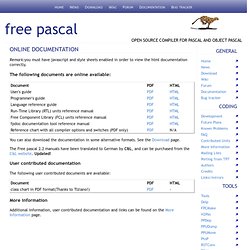 The following documents are online available: You can also download the documentation in some alternative formats. See the Download page. The Free pascal 2.2 manuals have been translated to German by C&L, and can be purchased from the C&L website. Updated! Lazarus Development. On the road with Lazarus/Freepascal.
Executing External Programs. SysUtils.ExecuteProcess The simplest way if you don't need pipes or any form of control is to simply use SysUtils .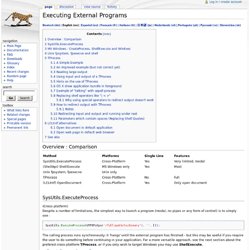 ExecuteProcess ( UTF8ToSys ( '/full/path/to/binary' ) , '' , [ ] ) ; For simplicity's sake, the calling process runs synchronously: it 'hangs' until the external program has finished. For more complex forms, see the next section about TProcess. How To Write Lazarus Component. Introduction This is a basic guide on how to build components.
It was tested on Windows 7 running Lazarus 0.9.30. Step 1: Create The Package. Adventures of a Newbie. English (en) | Français (fr) | 日本語 (ja) | ‪中文(中国大陆)‬ (zh_CN) Warning: As indicated by the writer, this article was written by a newbie who may not have known the best way of doing things.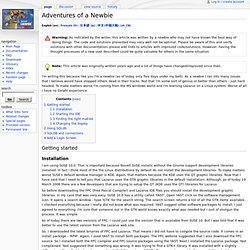 The code and solutions presented may very well not be optimal. Please be aware of this and verify solutions with other documentation; please add links to articles with improved code/solutions. However, having the thought processes of a new user described could be quite valuable for others in the same situation. Living Lazarus. Porting to Lazarus. Parallel Pascal Worlds. Pascal - SwinBrain. From SwinBrain Pascal is the name of a general purpose procedural programming language.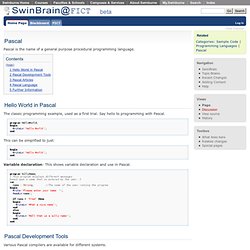 Hello World in Pascal.
---