Création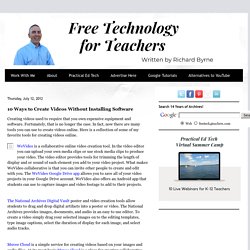 10 Ways to Create Videos Without Installing Software
Creating videos used to require that you own expensive equipment and software. Fortunately, that is no longer the case. In fact, now there are many tools you can use to create videos online.
SafeShare.TV est présenté comme un moyen efficace et fiable pour assurer une diffusion maîtrisée des vidéos publiées sur la plateforme YouTube. Le service dispose en effet de deux fonctionnalités principales : la première consiste à faciliter le partage des vidéos de YouTube en utilisant une URL directe qui présente la vidéo sans le parasitage de la publicité.
Comment éditer les vidéos disponibles sur YouTube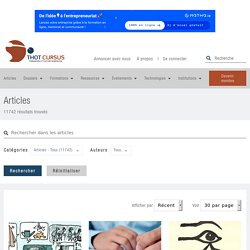 Free Flash Animation Software - Vectorian Giotto
2012 en 10 vidéos de voyage « Taxi-brousse
Je n'ai pas encore eu le temps de monter la moitié des vidéos tournées au cours de la dernière année.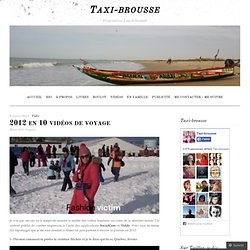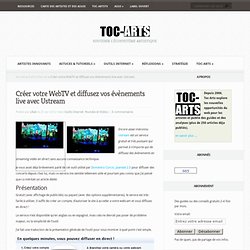 Encore assez méconnu Ustream est un service gratuit et très puissant qui permet à n'importe qui de diffusez des évènements en streaming vidéo en direct sans aucune connaissance technique.
Créer votre WebTV et diffusez vos évènements live avec Ustream
Avid Studio iPad : Nouvelle Alternative à iMovie (video)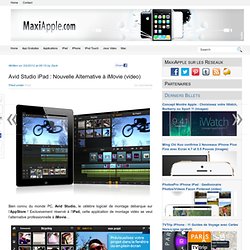 Written on 3/2/2012 at 06:15 by Zack Bien connu du monde PC, Avid Studio, le célèbre logiciel de montage débarque sur l' AppStore ! Exclusivement réservé à l' iPad, cette application de montage vidéo se veut l'alternative professionnelle à iMovie … Si l'interface utilisateur est loin d'égaler celle du logiciel d'Apple, Avid Studio dispose malgré tout de fonctionnalités sensiblement supérieures à ce dernier. Monter une séquence vidéo composée de séquences filmées, photos, podcasts et autres pistes audio récupérés sur votre iPad est relativement simple, d'ailleurs l'application offre même la capture vidéo et photo via l'APN… Une fois vos éléments placés sur la Timeline , vous pourrez les disposer par un simple glisser/déposer, leur ajouter des effets spéciaux, des transitions, des animations 3D ou encore du texte le tout agrémenté d'une bande-son issue de vos playlists.
Ultraslideshow Flash Creator - Create Flash Slideshows with photos and music
Créer une vidéo de son blog, Wibbitz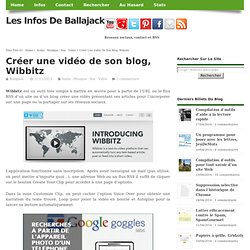 Wibbitz est un outil très simple à mettre en œuvre pour à partir de l'URL ou le flux RSS d'un site ou d'un blog créer une vidéo présentant ses articles pour l'incorporer sur une page ou la partager sur les réseaux sociaux. L'application fonctionne sans inscription. Après avoir renseigné un mail (pas utilisé, on peut mettre n'importe quoi…), une adresse Web ou un flux RSS il suffit de cliquer sur le bouton Create Your Clip pour accéder à une page d'options.
Créer un montage video avec windows movie maker
Application de création de films image par image pour iPad
Les images font partie du contenu le plus partagé en ligne par les utilisateurs d'internet que ce soit des photos personnelles, celles de la famille ou encore des photos retouchées.
Créer une vidéo avec nos propres photos à l'aide de PicoVico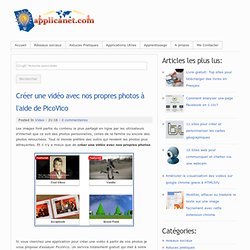 Toontastic c'est... fantastique !
Créer une critique littéraire vidéo
Des enseignantes m'ont demandé comment elles pouvaient faire créer facilement des critiques littéraires par leurs élèves.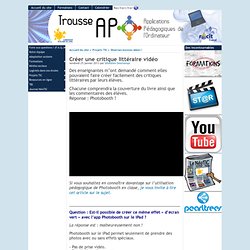 Make Stop-Motion Movies With JellyCam 4.0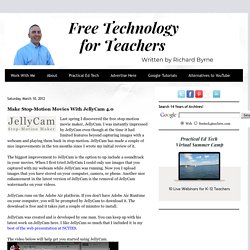 Last spring I discovered the free stop-motion movie maker, JellyCam . I was instantly impressed by JellyCam even though at the time it had limited features beyond capturing images with a webcam and playing them back in stop-motion. JellyCam has made a couple of nice improvements in the ten months since I wrote my initial review of it. The biggest improvement to JellyCam is the option to up include a soundtrack in your movies.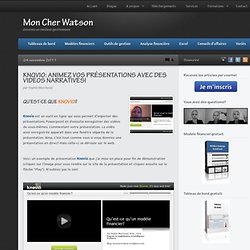 novembre 24, 2011 par moncherwatson Knovio est un outil en ligne qui vous permet d'importer des présentations Powerpoint et d'ensuite enregistrer des vidéos de vous-mêmes, commentant votre présentation. La vidéo ainsi enregistrée apparaît dans une fenêtre séparée de la présentation. Ainsi, c'est tout comme vous si vous donniez une présentation en direct mais celle-ci se déroule sur le web. Voici un exemple de présentation Knovio que j'ai mise en place pour fin de démonstration (cliquez sur l'image pour vous rendre sur le site de la présentation et cliquez ensuite sur la flèche « Play »). N'oubliez pas le son!
KNOVIO: ANIMEZ VOS PRÉSENTATIONS AVEC DES VIDÉOS NARRATIVES!
A) Le Principe Le montage vidéo s'effectue après les prises de vues que vous avez effectué avec votre caméscope. C'est le moment qui sert à vérifier que ce que vous avez filmé correspond bien au message que vous désiriez transmettre.
Découverte du montage vidéo
Sélection : Atelier d'animation image par image
Apprenez à animer — une image à la fois Vivez l'expérience de l'atelier en ligne sur l'animation image par image offert par l'Office national du film du Canada.
A Great Tool to Add Speech Bubbles, Stickers, and Hyperlinks to your Videos
Bubble Ply is a cool video annotation and personalization tool. It allows users to add a variety of effects to their videos and customize them the way they want.Bubble Ply is way better than YouTube editing platform that we have talked about in an earlier post.
28 séquences d'animations innovantes | formation 2.0
Animation Desk is an iPad app (free and premium versions available) for creating short, animated videos. The app allows you to create drawings using just your finger on your iPad's screen. In the free version of the app (the version that I tried) you can create up to 50 scenes in each of your projects.
Animation Desk - Create Short, Animated Videos
Stop motion videos are usually enchanting because they're so basic, the choppy movements are part of the appeal.
Two Excellent Tools to Create Stop Motion Animations for your Class
http://cyberguerande.free.fr/IMG/pdf/docfin_montage.pdf
free video cutter » Tomato Blog
un logiciel de découpe des vidéos
Editer une vidéo en ligne grâce à Magisto
Adobe VideoBite iPhone : Montage Automatique de vos Vidéos en Clip
Top 10 Beginner Video Tutorials To Learn GIMP Fast
Loopster - An Online Video Editor
un logiciel gratuit pour enregistrer en temps réel tout ce qui se passe sur l'écran de votre ordinateur
Any Video Recorder - enregistrer en temps réel tout ce qu'il se passe sur l'écran d'ordinateur
Tutoriels : monter une vidéo avec Windows Live Movie Maker, créer une carte personnalisée avec Google Maps (par l'EPN du Canton de Rocheservière)
07 - MONTAGE VIDEO AVEC WINDOWS LIVE MOVIE MAKER
VLC / Rogner un film
Logiciel gratuit de montage vidéo à partir de photos : PhotoFilmStrip
Ken-Burns Slideshows in Full-HD | Home
iStopMotion for iPad for iPad 2 Wi-Fi, iPad 2 Wi-Fi + 3G, iPad (3rd generation), iPad Wi-Fi + 4G, iPad (4th generation), iPad Wi-Fi + Cellular (4th generation), iPad mini and iPad mini Wi-Fi + Cellular on the iTunes App Store
Créer un film d'animation en Stop Motion
Filmstreet - Activities | Free Library | Scoop.it
Cinefy Des effets spéciaux pour vos films. | La Photo sur iPhone