Screencast/Videostreaming
Colibri
When you've finished creating an instructional video for your parents or friends, customers or colleagues, export it in any video format supported by Quicktime. Make it available on a network server, your website, upload it to YouTube.com or any other video sharing portal. The more people can access your work, the merrier. Export the videos for Macs, iPhones or the AppleTV.
Synium - Screenium
Copernicus (Mac) - Download
Download Copernicus for Mac - Take advanced screenshots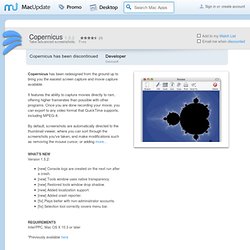 Take advanced screenshots. Free Copernicus has been redesigned from the ground up to bring you the easiest screen capture and movie capture available.
Ever wondered how people show you so clearly what is happening on their computer, like in the Photoshop Video Tutorials we shared with you? Thanks to screencasting software, anyone can do it. So what's stopping you now from making your own how-to videos?