Screencast/Videostreaming
Colibri
When you've finished creating an instructional video for your parents or friends, customers or colleagues, export it in any video format supported by Quicktime. Make it available on a network server, your website, upload it to YouTube.com or any other video sharing portal. The more people can access your work, the merrier. Export the videos for Macs, iPhones or the AppleTV.
Synium - Screenium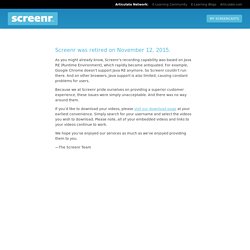 Using @Screenr to create and embed some kick butt training vignettes for a presentation. *LOVE* this website by @Articulate! #rocks —ross_sanders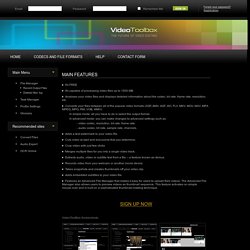 It's capable of processing video files up to 600 MB. Analyses your video files and displays detailed information about the codec, bit rate, frame rate, resolution, etc. Converts your files between all of the popular video formats (3GP, AMV, ASF, AVI, FLV, MKV, MOV, M4V, MP4, MPEG, MPG, RM, VOB, WMV). In simple mode: all you have to do is select the output format. In advanced mode: you can make changes to advanced settings such as: - video codec, resolution, bit rate, frame rate.
Copernicus (Mac) - Download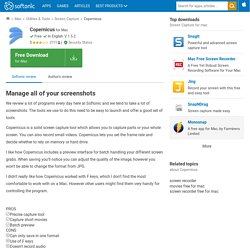 Free Download Safe download User 5.5 Not bad 57 Softonic 8 Very good Very good Your rating:
Download Copernicus for Mac - Take advanced screenshots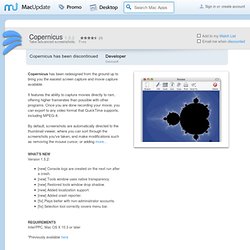 Take advanced screenshots. Free Copernicus has been redesigned from the ground up to bring you the easiest screen capture and movie capture available.
Ever wondered how people show you so clearly what is happening on their computer, like in the Photoshop Video Tutorials we shared with you? Thanks to screencasting software, anyone can do it. So what's stopping you now from making your own how-to videos?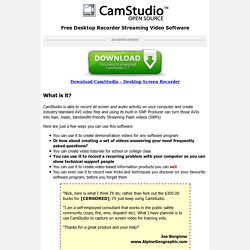 Free Streaming Video Software What is it? CamStudio is able to record all screen and audio activity on your computer and create industry-standard AVI video files and using its built-in SWF Producer can turn those AVIs into lean, mean, bandwidth-friendly Streaming Flash videos (SWFs) Here are just a few ways you can use this software: You can use it to create demonstration videos for any software programOr how about creating a set of videos answering your most frequently asked questions?