Sermons
Evolutionary Christianity || Audio Downloads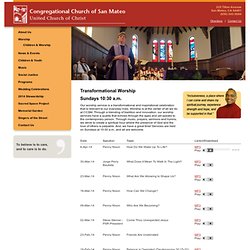 Our worship service is a transformational and inspirational celebration that is relevant to our everyday lives. Worship is at the center of all we do at CCSM. Through a blending of tradition and innovation, our worship services have a quality that echoes through the ages and yet speaks to the contemporary person. Through music, prayers, sermons and hymns, we strive to create a spiritual hour where the presence of God and the love of others is palpable. And, we have a great time! Services are held on Sundays at 10:30 a.m., and all are welcome.
Congregational Church of San Mateo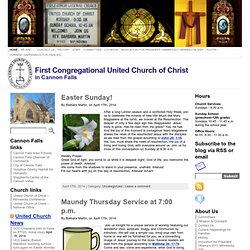 First Congregational Church of Cannon Falls
By Barbara Martin, on January 14th, 2014 Our Hebrew scripture lesson from Isaiah 49:1-7 offers a challenging vision of a community's future partnered with a clear word of hope. In the time second Isaiah was written, ~587 BCE, the southern kingdom of Judah had been defeated by the Babylonians.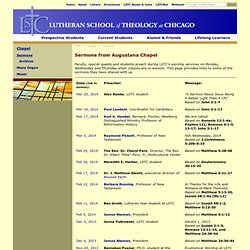 LSTC >> Chapel >> Sermons Faculty, special guests and students preach during LSTC's worship services on Monday, Wednesday and Thursday when classes are in session. This page provides links to some of the sermons they have shared with us. Please note these sermons are the intellectual property of their authors and LSTC and are Copyright protected. All rights reserved.
Chapel Sermons
Listen and Download Sermon Audio :: Westside Church Seattle
Undercover Pastor » Blog Archive » Your Church Can Podcast - Part 1: Recording your audio
Since I'm now a podcast veteran – yes, we've been podcasting for a month and a half – several people have asked how to do a podcast at their own churches. Well, I'm going to help you out! Before you can create a podcast, you'll need to know what one is. Lots of churches post audio of their weekly sermons on their websites. If you do this already, congratulations!