Sermons
Evolutionary Christianity || Audio Downloads. Congregational Church of San Mateo - Download free podcast episodes by Congregational Church of San Mateo on iTunes. Congregational Church of San Mateo. Our worship service is a transformational and inspirational celebration that is relevant to our everyday lives.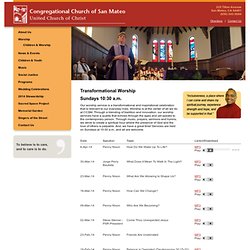 Worship is at the center of all we do at CCSM. Through a blending of tradition and innovation, our worship services have a quality that echoes through the ages and yet speaks to the contemporary person. Through music, prayers, sermons and hymns, we strive to create a spiritual hour where the presence of God and the love of others is palpable. And, we have a great time! Services are held on Sundays at 10:30 a.m., and all are welcome. First Congregational Church of Cannon Falls. Chapel Sermons. LSTC >> Chapel >> Sermons Faculty, special guests and students preach during LSTC's worship services on Monday, Wednesday and Thursday when classes are in session.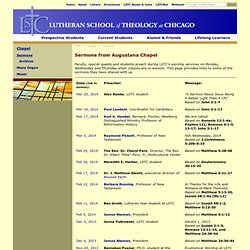 This page provides links to some of the sermons they have shared with us. Please note these sermons are the intellectual property of their authors and LSTC and are Copyright protected. All rights reserved. Listen and Download Sermon Audio :: Westside Church Seattle.
---