Weight loss
Best of Healthy Eats: Top Posts of 2010. We wrote about everything from apples to zucchini bread this year, with lots of healthy tips and ideas in between.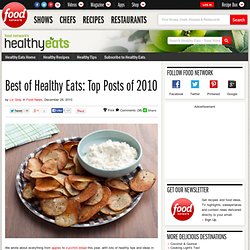 Here are your favorite posts of the year. #1: 50 Slimmed Down Comfort FoodsFrom macaroni and cheese to oven-fried chicken, you couldn't get enough of these healthier comfort food favorites. #2: 14 Foods Experts Won't Eat We polled food and nutrition experts (including guru Marion Nestle) to find out which foods they steer clear of. #3: 8 Healthiest Breakfast Items Breakfast really is the most important meal of the day — make it count with these uber-healthy morning meal options. #4: 5 Food Additives to Avoid You were also concerned with things you shouldn't be eating, like these top 5 food additives to keep off your grocery list. 10 Foods to Wake Up Your Workday. 8.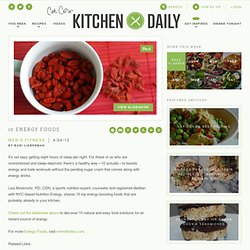 Quinoa "Quinoa is a gluten-free grain that contains more protein than any other grain or rice. 7 Super Snacks That Heal. If some doctors had their way today, Americans would be more medicated than industrial feedlot cattle.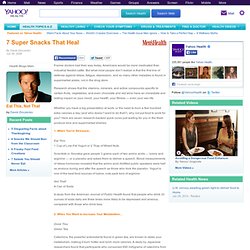 But what most people don't realize is that the first line of defense against stress, fatigue, depression, and so many other maladies is found in supermarket aisles, not in the drug store. Research shows that the vitamins, minerals, and active compounds specific to certain fruits, vegetables, and even chocolate and red wine have an immediate and lasting impact on your mood, your health, your fitness — even your sex life. Whether you have a big presentation at work, or the need to burn a few hundred extra calories a day (and who doesn't want to do that?) Green Smoothie for Weight Loss? |
One of my absolute favorite things is a Green Smoothie.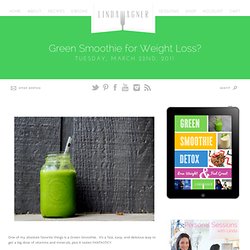 It's a fast, easy, and delicious way to get a big dose of vitamins and minerals, plus it tastes FANTASTIC!! Don't let the color's fool you!! It is sweet and filling – even the kids love it!! They love to name it the "Monster Smoothie" or "Shreck Smoothie" or some other fun name but believe me, kids go crazy for it!! And it's a great way to sneak in some powerful green nutrition into their diet. No Bullshit Weight Loss Diet. Drink Neuro® The Fast Food Explorer - your ultimate fast food calculator. FatCalories.com may be available for purchase.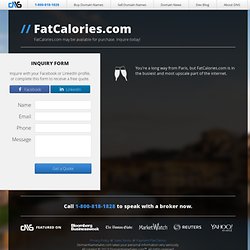 Inquire today! Inquiry Form Inquire with your Facebook or LinkedIn profile, or complete this form to receive a free quote. Every big dream that became a reality had one thing in common: A solid foundation. First impressions matter.Get an email address as big as your dreams.
---