Crystals
Un article de Wikipédia, l'encyclopédie libre. L'Art de mémoire (Ars memoriae), appelé aussi méthode des loci ou méthode des lieux, est une méthode mnémotechnique pratiquée depuis l'antiquité. Elle sert principalement à mémoriser de longues listes d'éléments ordonnés. Elle est basée sur le souvenir de lieux déjà bien connus, auxquels on associe par divers moyens les éléments nouveaux que l'on souhaite mémoriser. Cet art fut enseigné pendant des siècles dans les universités, comme constituant une partie de la rhétorique et de la dialectique. Il permettait à un orateur de mémoriser rapidement un sermon ou un discours.
The Major System (also called the phonetic number system, phonetic mnemonic system, or Herigone's mnemonic system) is a mnemonic technique used to aid in memorizing numbers. The system works by converting numbers into consonant sounds, then into words by adding vowels. The system works on the principle that images can be remembered more easily than numbers. The system[edit]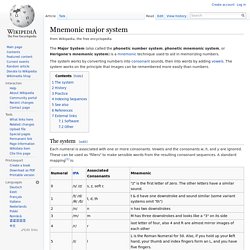 Under the hood, Foldit is undergoing a subtle modification to its energy function. The energy function (the scoring function) is what decides whether one structure is better than another structure, and is meant to capture the underlying physics of proteins in water. The changes that are going into the energy function represent years worth of work; in spite of the fact that we long knew about several problems in Foldit's previous energy function, it turns out that fixing them was really tough! There are a few things that you will notice about the new energy function. First, the hydrogen bond term is now a bit different.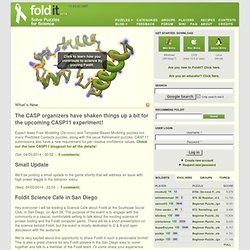 Solve Puzzles for Science | Foldit