Digital Rights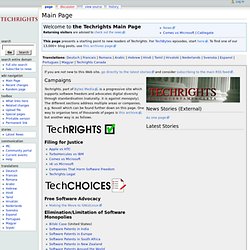 Introduction Boycott Novell is an initiative that was conceived (see history) after Novell had signed a patent deal with Microsoft, an abusive monopoly. This deal was sought after by Novell and it has initiated: A campaign of FUD (fear, uncertainty and doubt) against users and distributors of GNU/Linux.
Main Page - Techrights
Mozilla Firefox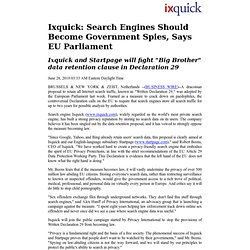 June 28, 2010 03:33 AM Eastern Daylight Time BRUSSELS & NEW YORK & ZEIST, Netherlands --(BUSINESS WIRE)--A draconian proposal to retain all Internet search traffic, known as "Written Declaration 29," was adopted by the European Parliament last week. Framed as a measure to crack down on paedophiles, the controversial Declaration calls on the EU to require that search engines store all search traffic for up to two years for possible analysis by authorities.
NETmundial Executive Stakeholder Committee (EMC) Outcome Document Today WikiLeaks released the penultimate draft agreement ("Outcome Document") going into NETmundial 2014 - the Global Multistakeholder Meeting on the Future of Internet Governance. NETmundial is an international conference of twelve nations and other internet stakeholders, to be hosted in São Paulo, Brazil, April 23-24, convened to lay down a roadmap for internet governance. Trans-Pacific Partnership Agreement - Environment Chapter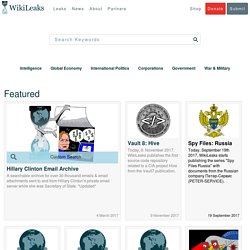 ACLU of Northern California : Technology
ACLUNC dotRights |
A federal appeals court ruled Friday that the police can't covertly track a suspect's car using a GPS device for an extended period of time without getting a warrant. The ruling in the D.C. Court of Appeals overturned the conviction of a suspected cocaine dealer, saying that the use of a secret GPS tracking device on the man's vehicle for one month violated the Fourth Amendment's protection against unreasonable searches and seizures. The ACLU and the Electronic Frontier Foundation filed a friend of the court brief supporting the challenge.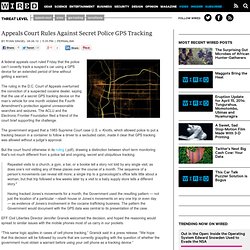 Appeals Court Rules Against Secret Police GPS Tracking | Threat Level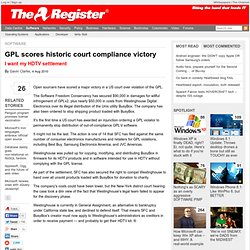 High performance access to file storage Open sourcers have scored a major victory in a US court over violation of the GPL. The Software Freedom Conservancy has secured $90,000 in damages for willful infringement of GPLv2, plus nearly $50,000 in costs from Westinghouse Digital Electronics over its illegal distribution of the Unix utility BusyBox. The company has also been ordered to stop shipping product loaded with BusyBox.
GPL scores historic court compliance victory