Web-design
12 Useful Techniques For Good User Interface Design | How-To | S. Advertisement Last week, we presented 10 Useful Web Application Interface Techniques, the first part of our review of useful design trends in modern Web applications.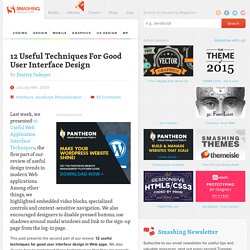 Among other things, we highlighted embedded video blocks, specialized controls and context-sensitive navigation. We also encouraged designers to disable pressed buttons, use shadows around modal windows and link to the sign-up page from the log-in page. This post presents the second part of our review: 12 useful techniques for good user interface design in Web apps. We also discuss how to implement these techniques so that they are properly used.
The Golden Ratio in Web Design - NETTUTS. 12 Really Handy CSS Framework, Template And Snippet Sites For Sm. If You are creating and developing new web-sites regularly, You should think about template creation, collecting useful code snippets and things like that.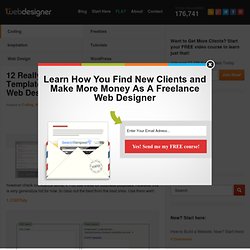 You should do that to fasten development process, so I think You could use, change, optimize these template files to Your needs, however check out licence terms, if You use these for business purposes. However this is very generalize list for now, to clear out the best from the best sites.
---