Visualization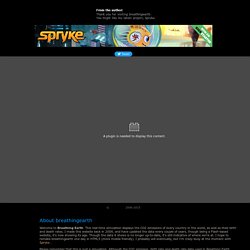 The Breathing Earth simulation Welcome to Breathing Earth. This real-time simulation displays the CO2 emissions of every country in the world, as well as their birth and death rates. Please remember that this is just a simulation. Although the CO2 emission, birth rate and death rate data used in Breathing Earth comes from reputable sources, data that measures things on such a massive scale can never be 100% accurate.
200 Years of History in 4 Minutes
Biological evolution is one of the three most profound discoveries in science. The other two are the vastness of the universe and geologic time. As such, biological evolution, along with the other two, deserves to be the foundation of all science learning, and should be taught from an early age. If the typical fourth grader can name planets in their order from the sun, she should also know that life is all related by descent from common ancestors. Life on Earth is One Big Extended Family.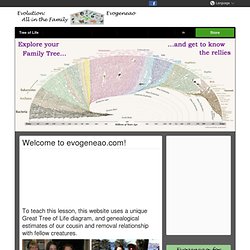 Of All The People In All The World, a traveling art exhibit in the UK, uses grains of rice to bring the large numbers behind world populations to the grasp of the average human being. In the exhibit, one grain of rice equals one person and those grains of rice are put together to represent all kind of statistics from the small (such as the number of people who have walked on the moon) to the large (the population of the United States as seen below). Link