Food
17 Tempting Tofu Recipes to Try - KitchenDaily
Who doesn't love a good grilled cheese? And, I know it's totally Ameeeerican to make the classic: American cheese, mayonnaise and bread. But, why not change it a bit and use REALLY fresh and natural ingredients?!?!?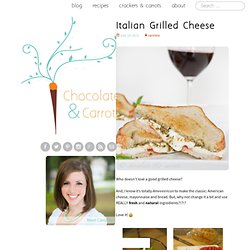 Aimee Herring Tired of packing PB&J for your kids? Or are you bored with the usual weekend ham & cheese? Whether you're packing lunch for the family or just need to switch things up, we've got a hand-held recipe for you.
KitchenArtistry | Passion For Food Expressed Through Photography
I saw someone wearing the greatest polka dot rain coat today and it inspired me to make this cheesecake. It needs to be refrigerated overnight so make sure you make it the day before you want to serve it. I find that popping it into the freezer for about 1/2 hour makes it a lot easier to cut.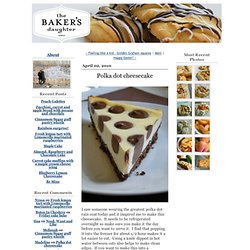 Quinoa - 5 Ways
Jupiterimages By Kerri-Ann Jennings, M.S., R.D., Associate Editor, Nutrition for EatingWell Magazine I was a vegetarian for most of my college years, but I was not yet a nutrition major (that came in grad school). My diet in those days consisted of lots of bread, cheese, yogurt and fruit. Not surprisingly, I gained weight and became iron-deficient. Now years later and pounds lighter, I still favor a meatless diet (although not exclusively). However, as a registered dietitian and associate nutrition editor at EatingWell Magazine, I now know how to go meatless without missing out on the nutrients my body needs (nutrients in meat and fish that I can also get through certain "must-have" plant foods).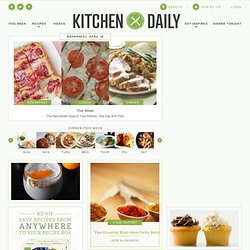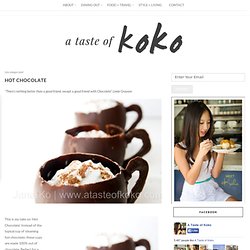 "There's nothing better than a good friend, except a good friend with Chocolate" Linda Grayson This is my take on 'Hot Chocolate'. Instead of the typical cup of steaming hot chocolate, these cups are made 100% out of chocolate. Perfect for a party to entertain your guests.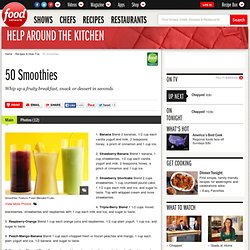 1. Banana Blend 2 bananas, 1/2 cup each vanilla yogurt and milk, 2 teaspoons honey, a pinch of cinnamon and 1 cup ice. 2. Strawberry-Banana Blend 1 banana, 1 cup strawberries, 1/2 cup each vanilla yogurt and milk, 2 teaspoons honey, a pinch of cinnamon and 1 cup ice.
Picture this scene: it's 8:30 in the evening. The sky is just starting to get dark outside your living room window. You ate a delicious, healthy and veggie-filled dinner a few hours ago and now you are ready to sit down to the most recent episode of So You Think You Can Dance and dive into a decadent plate of dessert.