Video Games
This tutorial helps you learn about the process of game construction, while guiding you through writing a relatively complete game. The code in this tutorial illustrates the technique described in the text. A complete code sample for this tutorial is available for you to download, including full source code and any additional supporting files required by the sample.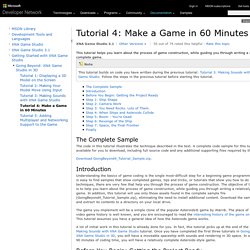 Metrics 2.0: Video Game Addiction: 81% of American Youth Play; 8.5% are Addicted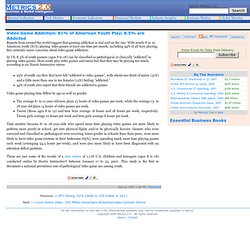 Reports from around the world suggest that gaming addiction is real and on the rise. With nearly 8 in 10 American youth (81%) playing video games at least one time per month, including 94% of all boys playing, this certainly raises concerns about video game addiction. In US, 8.5% of youth gamers (ages 8 to 18) can be classified as pathological or clinically "addicted" to playing video games.
Ontario News: Brandon Crisp found dead
US army uses video games as part of recruitment drive - 12 Nov 09
UAV's, Unmanned Aerial Vehicles in Afghanistan
U.S. military unmanned aerial vehicle called the Reaper.
Video Game Culture: Violence in Grand Theft Auto
Original Super Mario Bros. Beginning to End FAST!!!