iPad Resources
Ipadschools - home. iPad EdResources. As 2011 winds down, I have spent a good deal of time thinking about all of the online resources and tools that have helped make this past year a successful 'Year of the iPad' in my school district.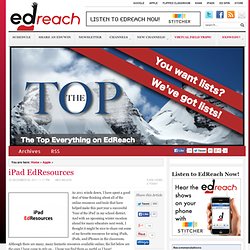 And with an upcoming winter vacation ahead for many educators next week, I thought it might be nice to share out some of my favorite resources for using iPads, iPods, and iPhones in the classroom. Although there are many, many fantastic resources available online, the list below are the ones I have come to rely on… I hope you find them as useful as I have! IEAR: The IEAR community is a solid resource for locating and discovering appropriate educational apps for the classroom. I really appreciate that the IEAR community is made up of educators who are using these apps in the classroom already, and are sharing reviews and information about specific apps.
Be an iPad Superstar: 8 Collections of iOS 5 Tips. Just when I think I know a lot of about Apple's iOS, someone shows me a clever feature, setting, or shortcut I've never seen before.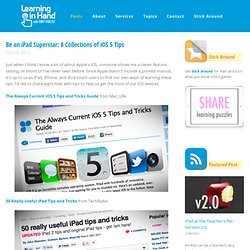 Since Apple doesn't include a printed manual, it's up to us as iPad, iPhone, and iPod touch users to find our own ways of learning these tips. I'd like to share eight links with tips to help us get the most of our iOS devices. The Always Current iOS 5 Tips and Tricks Guide from Mac|Life. The Always Current iOS 5 Tips and Tricks Guide. Posted 10/28/2011 at 7:56am | by Nic Vargus, Cory Bohon and J.R.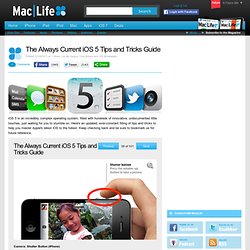 Bookwalter iOS 5 is an incredibly complex operating system, filled with hundreds of innovative, undocumented little touches, just waiting for you to stumble on. Here's an updated, ever-constant filling of tips and tricks to help you master Apple's latest iOS to the fullest. Keep checking back and be sure to bookmark us for future reference. 39 of 101. iPad Classroom. Bloom's Apps - 21nnovate. iPad Institute. 39 Sites For Using iPads in the Classroom. Pages - Menu This Blog Linked From Here Sites to Follow Friday, October 7, 2011 39 Sites For Using iPads in the Classroom.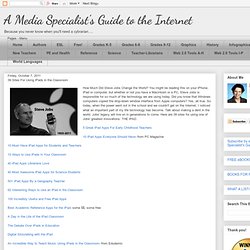 10 Mind Mapping Tools 4 the iPad. Brainstorming is a way for an individual or group to collect ideas about a specific problem or situation.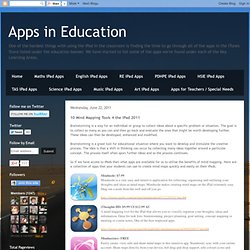 The goal is to collect as many as you can and then go back and evaluate the ones that might be worth developing further. These ideas can then be developed, enhanced and modified. Ipad-rubric.png 876×641 pixels.
---