Interiors
Style Tips from the Hotel Havana
We gave you a sneak peek of Liz Lambert's newest project, the Hotel Havana in San Antonio , last week. If you loved the hip, vintage look of the hotel's gorgeous rooms and common areas, you're in luck.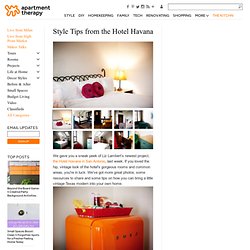 REVISION CHICAGO - Vintage I interiors | furniture | accessories | design I decorating I artwork | mid-century | modern I Hollywood Regency I Glam I eco-chic I green I special sale I alerts I previews I Chicago I Illinois I home IMad Men
Croft House - Modern Reclaimed Wood Furniture -
Samson Stool | Industry West
Izola
The New York Times > Magazine > Slide Show > The Perfect Getaway > Slide 3 of 5
Mid-Century Modern Lighting
Budget is the name of the game, but you'd never know after taking a peek at Andi and Dean's newly renovated bathroom.
Before & After: Andi & Dean's Master Bath on a Budget
The Brooklyn Home Company
Modern Lighting, Contemporary Lamps, Chandeliers - Niche Modern