Business
Home - The Difference Engine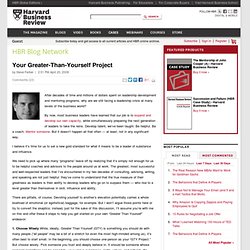 by Steve Farber | 2:31 PM April 20, 2009 After decades of time and millions of dollars spent on leadership development and mentoring programs, why are we still facing a leadership crisis at many levels of the business world? By now, most business leaders have learned that our job is to expand and develop our own capacity, while simultaneously preparing the next generation of leaders to take the reins.
Your Greater-Than-Yourself Project - Conversation Starter - Harv
Get your next mentor by being slightly annoying | Penelope Trunk
Brian Wiegand is a very low-profile guy who has sold three companies, most recently to Microsoft. He is big enough that TechCrunch writes about him as a good bet for anyone betting.