Business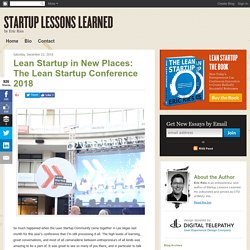 Guest post by Lisa Regan, writer for The Lean Startup Conference. Our fall webcast series concluded on a high note with three extraordinary conversations about the origins and implications of Lean Startup. If you missed these when they went out live, we encourage you to watch them now, as they lay a strong foundation for The Lean Startup Conference, December 9 -11 in San Francisco—less than two weeks from today. You can also listen to any of the webcasts, which, at the suggestion of a webcast attendee, we've turned into podcasts you can stream or download (from iTunes or SoundCloud).
Seedcamp is Recruiting – Come Join our Awesome Team As many of you know Seedcamp has been a very lean operation from the earliest of days. We were 1 person, growing to 2 for a few years, and then became 4 recently. We have accomplished an incredible amount in that time and our ambitions are to do so much more in London, Europe, … [Read More...]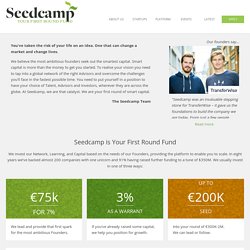 Based in Newcastle-upon-Tyne - a lively, diverse, cosmopolitan city and one of the UK's strongest tech clusters outside the capital - and with operations in London and NYC, Ignite operates one of Europe's top accelerator programmes as well as one of the largest venues dedicated to early-stage technology startups. Founded in 2011 by Colin Willis (Hotspur Capital), Jon Bradford (Techstars) and Paul Smith, Ignite was expected to be a one-off, three month programme. Instead, the city's appetite for technology and collaboration saw Ignite grow into an independent co-working space and venue. As Newcastle's ambition grew, so did we.
Home - The Difference Engine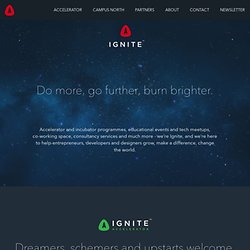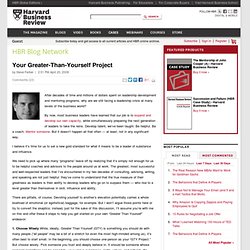 by Steve Farber | 2:31 PM April 20, 2009 After decades of time and millions of dollars spent on leadership development and mentoring programs, why are we still facing a leadership crisis at many levels of the business world? By now, most business leaders have learned that our job is to expand and develop our own capacity, while simultaneously preparing the next generation of leaders to take the reins.
Your Greater-Than-Yourself Project - Conversation Starter - Harv
Get your next mentor by being slightly annoying | Penelope Trunk
Brian Wiegand is a very low-profile guy who has sold three companies, most recently to Microsoft. He is big enough that TechCrunch writes about him as a good bet for anyone betting. But the bane of Brian's existence is that his exits have all been for under $50 million. This is enough for him to have a private jet and be King of Madison (Wisconsin), but not enough for him to get a lot of respect in Silicon Valley. A quote from my advisory board member who lives in Silicon Valley: "For big VCs, $50 million is a rounding error." So Brian is not looking for people to mentor or boards to sit on because he is consumed with running his fourth company, Alice.com, which will compete with Wal-Mart and Target.