Martin luther king jr.
Martin Luther King. Martin Luther King is probably the most famous person associated with the civil rights movement.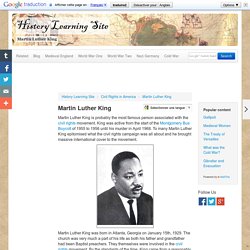 King was active from the start of the Montgomery Bus Boycott of 1955 to 1956 until his murder in April 1968. To many Martin Luther King epitomised what the civil rights campaign was all about and he brought massive international cover to the movement. Martin Luther King was born in Atlanta, Georgia on January 15th, 1929. The church was very much a part of his life as both his father and grandfather had been Baptist preachers. They themselves were involved in the civil rights movement. The History of Racism. The History of Racism – What is the state of race relations in 21st Century America?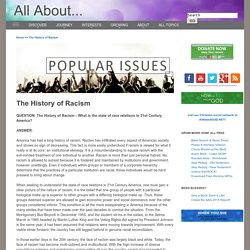 America has had a long history of racism. Racism has infiltrated every aspect of American society and shows no sign of decreasing. What is Racism? Racism has existed throughout human history.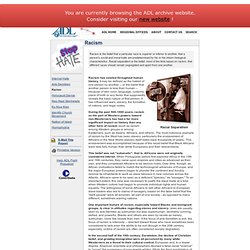 It may be defined as the hatred of one person by another -- or the belief that another person is less than human -- because of skin color, language, customs, place of birth or any factor that supposedly reveals the basic nature of that person. It has influenced wars, slavery, the formation of nations, and legal codes. During the past 500-1000 years, racism on the part of Western powers toward non-Westerners has had a far more significant impact on history than any other form of racism (such as racism among Western groups or among Easterners, such as Asians, Africans, and others). The most notorious example of racism by the West has been slavery, particularly the enslavement of Africans in the New World (slavery itself dates back thousands of years). The History of Racism. Martin Luther King, Jr. Advertisement.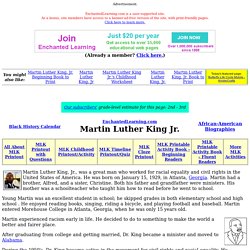 EnchantedLearning.com is a user-supported site. As a bonus, site members have access to a banner-ad-free version of the site, with print-friendly pages.Click here to learn more. (Already a member? Click here.) Martin Luther King, Jr., was a great man who worked for racial equality and civil rights in the United States of America. Martin Luther King. Martin Luther King. King graduated from Morehouse College in 1948.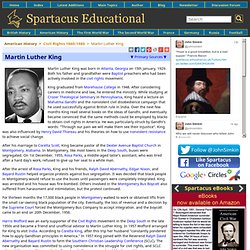 After considering careers in medicine and law, he entered the ministry. While studying at Crozer Theological Seminary in Pennsylvania, King heard a lecture on Mahatma Gandhi and the nonviolent civil disobedience campaign that he used successfully against British rule in India. Over the next few months King read several books on the ideas of Gandhi, and eventually became convinced that the same methods could be employed by blacks to obtain civil rights in America. He was particularly struck by Gandhi's words: "Through our pain we will make them see their injustice". Martin Luther King - Biography. Martin Luther King, Jr., (January 15, 1929-April 4, 1968) was born Michael Luther King, Jr., but later had his name changed to Martin.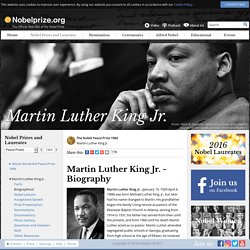 His grandfather began the family's long tenure as pastors of the Ebenezer Baptist Church in Atlanta, serving from 1914 to 1931; his father has served from then until the present, and from 1960 until his death Martin Luther acted as co-pastor. Martin Luther attended segregated public schools in Georgia, graduating from high school at the age of fifteen; he received the B. A. degree in 1948 from Morehouse College, a distinguished Negro* institution of Atlanta from which both his father and grandfather had graduated. After three years of theological study at Crozer Theological Seminary in Pennsylvania where he was elected president of a predominantly white senior class, he was awarded the B.D. in 1951. Martin Luther King, Jr. He was born Michael King, but his father changed his name in honor of German reformer Martin Luther.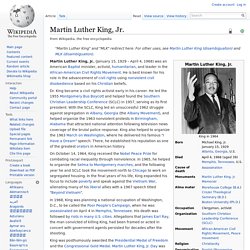 A Baptist minister, King became a civil rights activist early in his career. He led the 1955 Montgomery Bus Boycott and helped found the Southern Christian Leadership Conference (SCLC) in 1957, serving as its first president. With the SCLC, King led an unsuccessful struggle against segregation in Albany, Georgia, in 1962, and organized nonviolent protests in Birmingham, Alabama, that attracted national attention following television news coverage of the brutal police response.
King also helped to organize the 1963 March on Washington, where he delivered his "I Have a Dream" speech. There, he established his reputation as one of the greatest orators in American history.
---