Entrepreneurship
Bootstrapping a Startup. A List Apart: Articles: Starting a Business: Advice from the Trenches. If you're like thousands of other designers, programmers and other creative professionals out there, at one point in time you've considered starting your own business.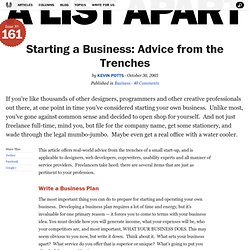 Unlike most, you've gone against common sense and decided to open shop for yourself. And not just freelance full-time, mind you, but file for the company name, get some stationery, and wade through the legal mumbo-jumbo. Maybe even get a real office with a water cooler. Eight Questions To Ask Before You Start A Business.
Are you thinking of starting a web business?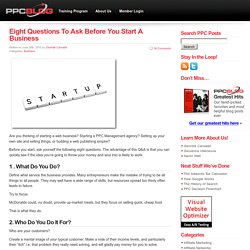 Starting a PPC Management agency? Setting up your own site and selling things, or building a web publishing empire? Before you start, ask yourself the following eight questions. The advantage of this Q&A is that you can quickly see if the idea you're going to throw your money and soul into is likely to work. 1 . Business Ideas for the Self Employed - StumbleUpon. Several years ago, I had a lovely long-term consulting assignment which kept me both busy and solvent.
One morning I woke up and realized that it was coming to an end and I had nothing lined up. After a few moments of panic, I decided to get serious about creating my next income source. I didn't have a great deal of time to devote to this, so I gave myself the challenge of finding a way to earn $100—an easily accomplished goal. What I didn't realize at the time, was that I had just created a new habit that has kept my business—and cash flow—moving smoothly along. Over time, I've learned that there are other benefits to this simple technique. 13 Business Books That Will Blow Your Mind | Fast Company - StumbleUpon.
Having never taken a business class in college I find that I read and listen to a lot of business books to round out my education.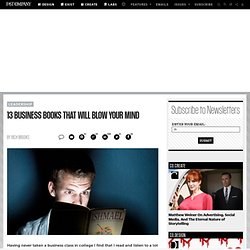 The books usually aren't "How to Manage Your Cash Flow" but rather get me to rethink the way I run my business, which--despite no business classes or diploma--continues to be in business 13 plus years after I started it. In that time, here are 13 of the books that had the biggest impact on how I run my business (in no particular order): Drive: The Surprising Truth About What Motivates Us by Daniel Pink: If you supervise anyone in your business, this book is a must read. It shows that what science knows about motivation, business isn't putting into practice.
In fact, many of the incentives we create can actually de-motivate our employees. Startup Flavor — tips to start and grow a great business. What the Apple Store Can Teach You About Creating a Remarkable Business. 45 Kick-Ass Resources for Online Entrepreneurs | Productive Entrepreneur - StumbleUpon. Few people talk about this great productivity tip… You will reach your goals faster and easier if you're willing to learn from others.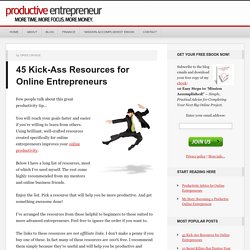 Using brilliant, well-crafted resources created specifically for online entrepreneurs improves your online productivity. Below I have a long list of resources, most of which I've used myself. The rest come highly recommended from my mentors and online business friends. How Oprah Nearly Killed My Business : Innovation. How did being featured on the cover of Oprah's magazine almost cost this author his business?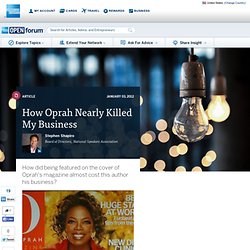 January 03, 2012 My book, Goal-Free Living, was featured on the cover of the November 2005 issue of O, The Oprah Magazine. Two full pages were dedicated to my goal-free concepts. Startups Use Four Catalysts to Win Funding: Benjamin L. Hallen. For many aspiring entrepreneurs, the hunt for venture capital is a tale of frustration and woe.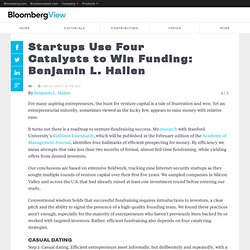 Yet an entrepreneurial minority, sometimes viewed as the lucky few, appears to raise money with relative ease. It turns out there is a roadmap to venture-fundraising success. My research with Stanford University's Kathleen Eisenhardt, which will be published in the February edition of the Academy of Management Journal, identifies four hallmarks of efficient prospecting for money. By efficiency we mean attempts that take less than two months of formal, almost full-time fundraising, while yielding offers from desired investors. Our conclusions are based on extensive fieldwork, tracking nine Internet-security startups as they sought multiple rounds of venture capital over their first five years.
Entrepreneurs, Start Your Engines: 100 Business Ideas You Can Drive Home Today. A VC: Financing Options For Startups. I got a bunch of great suggestions in my kickoff post on this topic last week.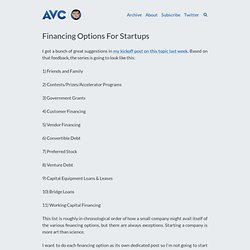 Based on that feedback, the series is going to look like this: 1) Friends and Family 2) Contests/Prizes/Accelerator Programs. ARE WE TOO PROFESSIONAL? It's an unstoppable buzzword.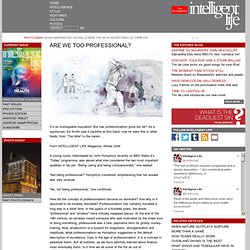 But has professionalism gone too far? As a sportsman, Ed Smith saw it backfire at first hand; now he sees this in other fields, from "The Wire" to the banks ... From INTELLIGENT LIFE Magazine, Winter 2009 A young nurse, interviewed by John Humphrys recently on BBC Radio 4's "Today" programme, was asked what she considered the two most important qualities in her job. "Being caring and being compassionate," she replied. Empty Your Closets, Fill Your Bank Account | MintLife Blog | Personal Finance News & Advice. Chances are, you own lots of items that are worth something to someone—you just need to know where and how to sell them for the best potential profit.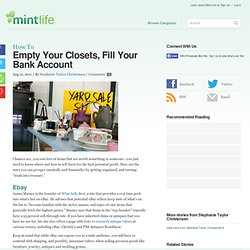 Here are the ways you can prosper (mentally and financially) by getting organized, and turning "trash into treasure." Ebay.
---