Jeunesse
Soutien scolaire, cours de maths, cours d'anglais : Educastream réinvente le soutien scolaire !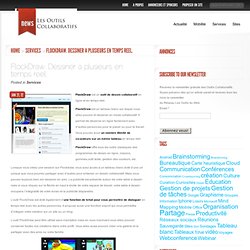 FlockDraw. Dessiner a plusieurs en temps reel
FlockDraw est un outil de dessin collaboratif en ligne et en temps réel. FlockDraw est un tableau blanc sur lequel vous allez pouvoir et dessiner en mode collaboratif.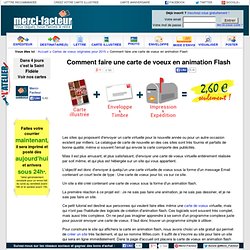 Les sites qui proposent d'envoyer un carte virtuelle pour la nouvelle année ou pour un autre occasion existent par milliers. Le catalogue de carte de nouvelle an des ces sites sont très fournis et parfaits de bonne qualité, même si souvent l'email qui envoie la carte comporte des publicités. Mais il est plus amusant, et plus satisfaisant, d'envoyer une carte de voeux virtuelle entièrement réalisée par soit même, et qui plus est hébergée sur un site qui vous appartient. L'objectif est donc d'envoyer à quelqu'un une carte virtuelle de voeux sous la forme d'un message Email contenant un court texte de type : Une carte de voeux pour toi, va sur ce site. Un site a été créé contenant une carte de voeux sous la forme d'un animation flash. La première réaction à ce projet est : Je ne sais pas faire une animation, je ne sais pas dessiner, et je ne sais pas faire un site.
Comment faire une carte de voeux en animation Flash
Domo Animate - Make your own Domo Animations and Slideshows with GoAnimate's super easy to use tools.
Pokestadium | The Battling Generation of Pokemon
France 5 - Petit Ours Brun
Game Player
Create online Make movies in minutes from any web browser anywhere. Express your opinion Share a joke with friends Bring creative ideas to life Send unique invites or greetings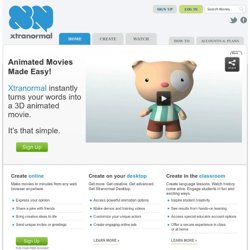 Dummiez Valentine