Fonts
Dizorb. "Since typography is a communication method that utilizes a gathering of related subjects and methodologies that includes sociology, linguistics, psychology, aesthetics, and so much more – we aim to educate that there is no single approach within typography that applies to everything."
Shelley Gruendler The purpose of this post was to provide you with an incredible selection of fonts that are completely free and don't have ridicules prices ranging in the hundreds. These font designers below simply love sharing their work with others, which is something that we value here on Dizorb especially when the work is astonishing. Show some love to the designers of these fonts by leaving a comment below and telling us which ones are your favorites.
The League of Moveable Type. TypeNavigator. Template Monster. Though there's a broad variety of fonts available for download online, designers keep on tracing the fresh ones to enhance their design copy, a website, brochure, or even an advertisement in a brand new an' awesome way.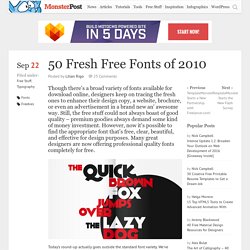 Still, the free stuff could not always boast of good quality – premium goodies always demand some kind of money investment. However, now it's possible to find the appropriate font that's free, clear, beautiful, and effective for design purposes. Font Squirrel. PilotHandwriting. Elegant Fonts for Clean Design.
Whether it's textures, Photoshop brushes, or icons, we love finding top notch free files and sharing them with our readers.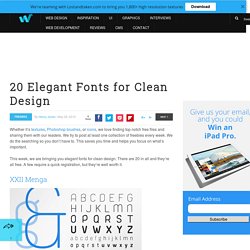 We try to post at least one collection of freebies every week. We do the searching so you don't have to. This saves you time and helps you focus on what's important.
---