Interests
8 Things You Should Never Say to Customers | BNET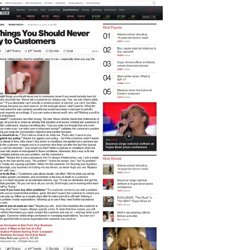 Great customer relationships: Hard to establish, easy to ruin -- especially when you say the wrong things. Here are eight things you should never say to customers (even if you would secretly love to): "No." A boss once told me, "Never tell a customer no. Always say, 'Yes, we can. Here's what that will cost.'" If you absolutely can't provide a certain product or service, you can't, but often you can't simply because you don't want to.
Magnet Kingdom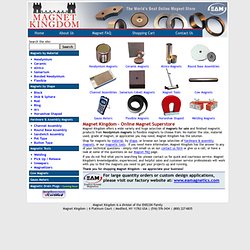 Magnet Kingdom offers a wide variety and huge selection of magnets for sale and finished magnetic products from Neodymium magnets to flexible magnets to choose from. No matter the size, material used, grade of magnet, or application you may need, Magnet Kingdom has the solution. Shop for magnets by material, by shape, or browse our large selection of hardware & assembly magnets, or our magnetic tools. If you need more information, Magnet Kingdom has the answer to any of your technical questions - simply visit email us on our contact us form or give us a call, or have a look at some of the questions on our Magnet FAQ page.
How do I make an electromagnet? It is fairly easy to build an electromagnet. All you need to do is wrap some insulated copper wire around an iron core. If you attach a battery to the wire, an electric current will begin to flow and the iron core will become magnetized.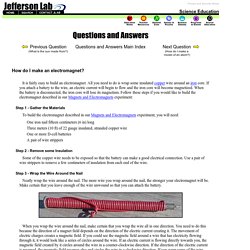 How do I make an electromagnet?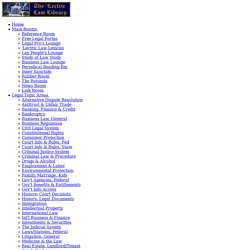 The 'Lectric Law Library's Entrance & Welcome
Hi Visitor! I'm Ralf Rinkle, the Library's beloved Head Librarian, respected Legal Scholar in Residence & admired Chief Counsel. Although I strongly advise against it, if you're one of those annoying, impatient types who thinks you're smart enough to skip my world famous Tour's vitally important, erudite, intelligent elucidations without destroying everything you hold dear,you can get right to business by clicking on one of the Library locations over there on your left... or on my right... unless one of us is looking in a mirror or our eyes somehow got put in upside... Anyhow, that aside, I also urge you not to check out some of these hot topics: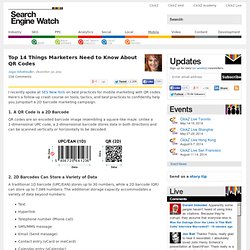 I recently spoke at SES New York on best practices for mobile marketing with QR codes. Here's a follow-up crash course on tools, tactics, and best practices to confidently help you jumpstart a 2D barcode marketing campaign. 1.
YouTube is Useless
YouTube is useless at boosting traffic if you're not using it to its fullest potential. YouTube is home to 490 million users, and offers the possibility of sending interested users to your website, but only if you know how to use it. If your video isn't up to snuff, it'll only gather cobwebs and be forgotten about.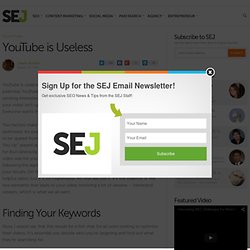 Folder Solutions - Presentation Pocket Folders and More
This arti­cle is for web design­ers and front-end web devel­op­ers who are inter­ested in grid-based lay­out sys­tems but are at a loss on how to decipher them. 04.Mar.2012 A PDF writ­ten by Andrew Maher to help you design grids and to give you the resources to delve fur­ther into the grid world. Mark Boul­ton pulls together some of his thoughts and con­cerns regard­ing CSS grids and how they could (or, maybe, should) be created. A fold­ing grid for responsive design.
Redaction
National Powersports Distributors Pembroke, New Hampshire- 1-603-410-4120