ICT
SmartBoard. Products 2. EXAMPLE - Kindergarten News by Gina Wilson-Burns on Prezi. Christmas Sites for Primary Classrooms | Integrating Technology in the Primary Classroom. Christmas/games.htm. Cupcakes, meet your match—cake balls are our new favorite bite-sized snack!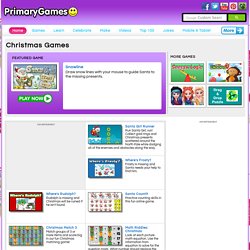 Light the Christmas tree so that Santa comes to town and makes the Monkey GO Happy! Help Snail Bob have a very merry Christmas by keeping him alive in this puzzle-ridden winter wonderland. Dust off your apron and get ready to make this traditional English Christmas treat. Santa needs your help to spread his Christmas cheer. Keyboarding Games for Kids - Learning to Type Games for Kids. TechLEARNING.com. Thinkuknow - online safety! Practical Support Pack. I.C.T. - Word Processing. ICT Unit 0 - A brilliant resource to get children started with computers.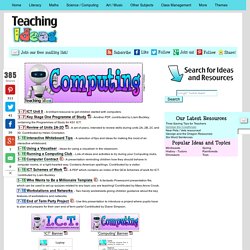 Key Stage One Programme of Study - Another PDF, contributed by Liam Buckley, containing the Programmes of Study for KS1 ICT. Review of Units 2A-2D - A set of plans, intended to review skills during units 2A, 2B, 2C and 2D. Contributed by Helen Crompton. Interactive Whiteboard Tips - A selection of tips and ideas for making the most of an interactive whiteboard. Using a Visualiser - Ideas for using a visualiser in the classroom. KS2 - ICT - Key Skills. Javascript. On the left, the JavaScript examples have the coding alongside.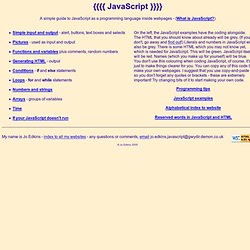 The HTML that you should know about already will be grey. (If you don't, go away and find out!) Literals and numbers in JavaScript will also be grey. There is some HTML which you may not know yet, which is needed for JavaScript. Unicorn - Unique Coder with Reduced Notation. How to run a program Enter program into the text box.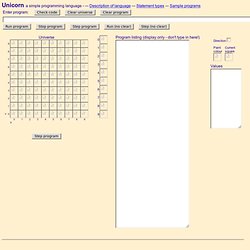 (Try S2 M4 ) If you want to see an expanded listing and check for errors, click on 'Check code'. Typing practice. This webpage gives you quick, useful practice in typing.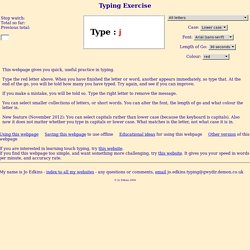 Type the red letter above. When you have finished the letter or word, another appears immediately, so type that. Tag Learning. Logo & Control. Internet & Email. Spreadsheets & Databases. Planning & Assessment. Word Processing & DTP. ICT lesson plans; For Year 1 - 6. Control. Internet Safety. ICT. ICT. Teachernet, Learning, teaching and managing using ICT. Becta - Becta.
---