BigBooks 2
Diary of a Wimpy Kid - KS2. Alice's Adventures in Wonderland -AUDIO. Beatrix Potter's book online. Beatrix Potter's Stories - Multimedia Slide Show in English Peter Rabbit Audio Slide Show for 28.8 or 33.6K modems Peter Rabbit Audio Slide Show for 56K or better modems You don't need to click to the next page during the slide show, just sit back and enjoy.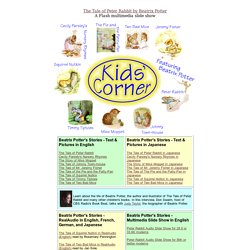 The Wolf's Side of the Story: The Three Little Pigs; Newpaper Article; KS2. SOMERSET PA (AP) -- A.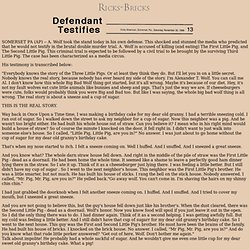 Wolf took the stand today in his own defense. This shocked and stunned the media who predicted that he would not testify in the brutal double murder trial. A. Aesop's Fables; A large collection of Aesop's fables. European Folk Tales - Most of the stories are written in two languages. The Missing Pencil (with sound) Fairy Tales KS2; Grimm Brothers. Three Interactive Big Books; Mr Noah; Rabbit's Pie; Key Sentences; KS1. The Little Fir Tree; Danish. The White Elephant. The Three Bears and the New Baby.
A Midsummer Night's Dream. Sinbad. 1002 Arabian Nights. The Elves and the Shoemaker. The Cat and the Mouse. The Fox and the Crocodile. Digger and the Gang - In the maze.
Digger and the Gang - The thieves. Digger and the Gang - Stolen statue. Digger and the Gang - At the party; Part 3; KS1.
---