Common Core
Common Core State Standards Initiative | PTA. (select any of the links below) The Common Core State Standards (CCSSI) is a joint effort led by the National Governors Association Center for Best Practices and the Council of Chief State School Officers to develop a common core of K-12 standards in English language arts and Mathematics.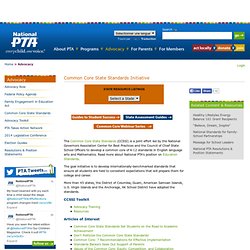 Read more about National PTA's position on Education Standards. Implementation of the ELA Common Core State Standards Across the Country. Brenda Overturf is a member of the International Reading Association's Board of Directors.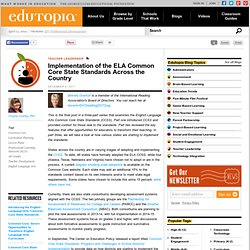 You can reach her at boverturf[AT]reading[DOT]org. This is the final post in a three-part series that examines the English Language Arts Common Core State Standards (CCSS). Part one introduced CCSS and provided context for those new to the standards. Home. Common Core State Standards. College and Career Readiness Illinois joined more than 40 states in a collaborative effort to raise learning standards and improve college and career readiness for all students, regardless of where they live.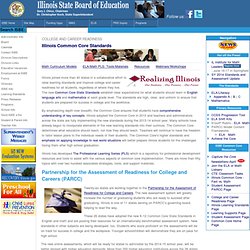 The new Common Core State Standards establish clear expectations for what students should learn in English language arts and mathematics at each grade level. The standards are high, clear, and uniform to ensure that students are prepared for success in college and the workforce. Common Core for the Holidays.
---