ART 299 VISCULT in GLBL CNTXT
This is a collection of websites related to Art 199 at the University of Illinois, Urbana-Champaign. Dec 30
This new ninety-minute film takes audiences on an epic journey across nine countries and over 1,400 years of history. It explores themes such as the Word, Space, Ornament, Color and Water and presents… Visit 'Smithsonian Collection of Quranic Manuscripts' for images and description of the photographs presented in the slideshow. Allah u Allah 'As sub hu bada min tal'ati hii W- al- laylu dajaa minv wafrati hee'… The architecture of Islamic mosques and tombs is an invaluable treasure of world heritage. Many countries have taken inspiration from this tradition.
Islamic Arts and Architecture | All about Islamic Arts and ArchitectureIslamic Arts and Architecture | All about Islamic Arts and Architecture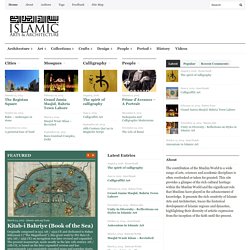 4000 to 1000 BCE: China | Asia for Educators | Columbia University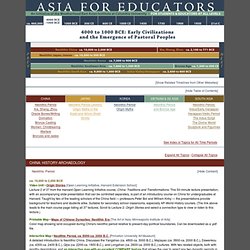 Video Unit • Bronzes, Oracle Bones, and the Legitimation of Power [Open Learning Initiative, Harvard Extension School] Lecture 3 of 37 from the Harvard Open Learning Initiative course, China: Traditions and Transformations. This 50-minute lecture presentation, with an accompanying slide presentation that can be controlled separately, is part of an introductory course on China for undergraduates at Harvard. Taught by two of the leading scholars of the China field — professors Peter Bol and William Kirby — the presentations provide background for teachers and students alike. Suitable for secondary school classrooms, especially AP-World History courses. (The link above leads to the main course page listing all 37 lectures. Scroll to Lecture 3: Bronzes, Oracle Bones, and the Legitimation of Power and select a connection type to view or listen to this lecture.)
Throughout the world different systems have been used to mark the passage of time, but it has been common for cultures to count the passing of years from a specific event in their past. For example, the ancient Greeks counted years from the first Olympic Games (which correlates to 776 B.C.), while the Romans based their calendar on the founding year of Rome (traditionally 753 B.C.). The Jewish calendar starts from their idea of when the world was created (3760 B.C.), while the Muslim calendar begins with the Hijra, the migration of the Prophet Muhammad from Mecca to Medina in A.D. 622. A monk called Dionysius Exiguus (early sixth century A.D.) invented the dating system most widely used in the Western world.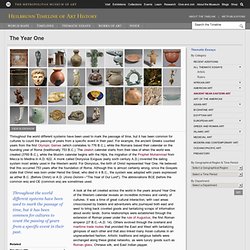 The Year One | Thematic Essay
ARTHISTORYWORLDS.ORG
The Applied History of Art and Architecture (AHAA) Educational Foundation Dr. Katherine Bolman's Micro-Lessons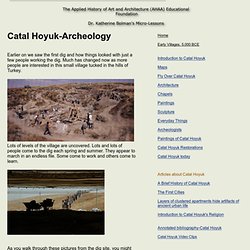 Catal Hoyuk-Archeology Earlier on we saw the first dig and how things looked with just a few people working the dig. Much has changed now as more people are interested in this small village tucked in the hills of Turkey.
Ubicado en la zona de mayor confluencia de la ciudad vieja, sobre un rincón de la Plaza Matriz y a pasos de la Catedral Metropolitana, se encuentra el Museo Gurvich, una institución dedicada principalmente a la exhibición y difusión de la obra del artista José Gurvich, con miras a la investigación artística en general. Mundo de Nueva York II, 1971 / Óleo / tela, 62 x 77 cm © Museo Gurvich - Montevideo – Uruguay El Museo Gurvich fue inaugurado en el 2005 por iniciativa de la Fundación del artista. Se trata de un emprendimiento privado de interés público que cuenta con la Declaración de Interés de los Ministerios de Cultura, y de Turismo y de la Intendencia Municipal de Montevideo.
Uruguay Cultural » Museo Gurvich además de Gurvich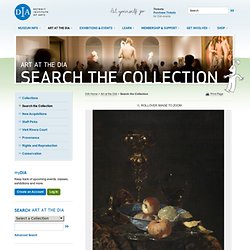 Hope-Johnstone, C., "A Still Life by Willem Kalf", ¦DIA Bulletin,¦ vol. 8, no. 4, 1927, pp. 45-46, repr. Denver, Denver Art Museum, "Loan Exhibition of Dutch Paintings of the Seventeenth Century", Oct. 3-30, 1929, repr (unpaginated, intro. by S. W. Heavenrich). Heil, W., ¦Catalogue of Paintings in the Permanent Collection of The Detroit Institute of Arts,¦ Detroit, 1930, cat. 114, repr. Goldschmidt, A., "The Style of Dutch Painting in the Seventeenth Century", ¦Art Quarterly,¦ vol. 2, 1939, pp. 3-18, esp. pp. 8, 13, pl. 9.
Willem Kalf: Still Life (26.43) — The Detroit Institute of Arts
WuShrine
During the reign of the Han emperor Wu Ti (141-187 CE), Confucianism was established as the official imperial philosophy. The Wu family shrines, located in Jaixiang in the Shandong Providence of China, contain reliefs which depict scenes of everyday life, and serve as examples of Confucius' teachings[1]. One relief from the Wu family shrine, dating to 151 CE, depicts subjects paying homage to their emperor at his royal residence.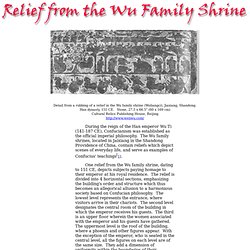 Center for Chinese Studies
Recarving China's Past: The Wu Family Shrines and the Story of the Stones, UCLA International Institute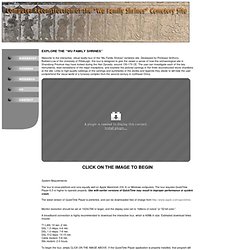 Computer Reconstruction of the Wu Family Shrines
Welcome to the interactive, virtual reality tour of the "Wu Family Shrines" cemetery site. Developed by Professor Anthony Barbieri-Low of the University of Pittsburgh, this tour is designed to give the viewer a sense of how this archaeological site in Shandong Province may have looked during the Han Dynasty, around 150-170 CE. The user can investigate each of the key monuments, read translations of the major inscriptions, and examine the pictorial carvings in the three reconstructed stone chambers at the site. Links to high-quality rubbings of the carvings and summaries of the stories and legends they allude to will help the user comprehend the visual world of a funerary complex from the second century in northeast China. System Requirements:
Hiroshige - 36 Views of Mount Fuji 1858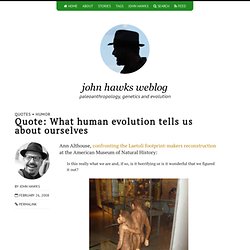 Ann Althouse, confronting the Laetoli footprint-makers reconstruction at the American Museum of Natural History: Is this really what we are and, if so, is it horrifying or is it wonderful that we figured it out? My photo, not Althouse's. Clearly the museum has tried to make them look wonderful and not horrible, but so much depends on the up close encounter with these small apish people, bracing each other in their little glass box against these strange surroundings.
Quote: What human evolution tells us about ourselves
Pre-history Africa & the Badarian Culture Evidence of the Badarians into Pre-historic Egypt (4500-3800 BC) The founder of pre-dynastic Nile Valley archaeology was William Finders Petrie (1853-1942), whose excavations at Nagada and Ballas in Upper Egypt nearly 100 years ago unearth nearly 1200 pre-dynastic graves. Other archaeologists such as Quibbell, Brunton, and Caton-Thompson have only refined and extended his research.
Pre-history Africa & the Badarian Culture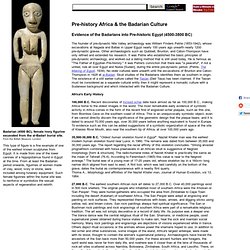 A Missing Van Gogh Discovered
American Institute of Indian Studies-Photo Archive
Cultural Landscape and Archaeological Remains of the Bamiyan Valley The cultural landscape and archaeological remains of the Bamiyan Valley represent the artistic and religious developments which from the 1st to the 13th centuries characterized ancient Bakhtria, integrating various cultural influences into the Gandhara school of Buddhist art. The area contains numerous Buddhist monastic ensembles and sanctuaries, as well as fortified edifices from the Islamic period. The site is also testimony to the tragic destruction by the Taliban of the two standing Buddha statues, which shook the world in March 2001. Paysage culturel et vestiges archéologiques de la vallée de Bamiyan
Cultural Landscape and Archaeological Remains of the Bamiyan Valley
Interactive Silk Road Map Exercise This set of maps has been developed to assist learners in mastering basic geography of the Silk Road. The maps here include a variety of geographical names selected because of their importance. Obviously many other choices might have been made. The list is based on one that has been used for several years in a Silk Road survey course taught at the University of Washington.
Silk Road Map Quizzes
Buddhism - The Art of Asia
The Silk Road Project - Silk Road Maps
The Silk Road
Machu Picchu's Mysteries