Projects to make
Thursday, June 14, 2012 4:30 am, Posted by Chris Groves | Internet 20 Awesome Do It Yourself Projects Topics: At Home Project Ideas , Creative DIY Home Projects , Do It Yourself Projects for 2012 , Fun How To Projects , What to Do with Extra Stuff Are you bored and have a bunch of extra little items hanging around here and there?
If you're anything like me, you have a hard drive (or three) of photos waiting to be printed. Take matters into your own hands and do it right at home! Printing onto canvas turns your photos into unique pieces that you can't get from a print shop. Each transfer is wonderfully and uniquely imperfect, which gives them a vintage look and feel.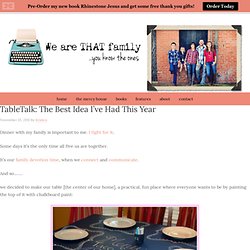 Dinner with my family is important to me. I fight for it . Some days it's the only time all five us are together.
Supplies needed: Acrylic dabbers, photocopy of an image, water spritzer bottle, paintbrush, card stock, craft sheet and heat tool (optional) Take the lid off the dabbers and brush the paint onto the card stock, ensure you get a good coverage Take your photocopied image ( remember that you will get a reverse of the image, so don't use bold words), flip it over and place it in the acrylic.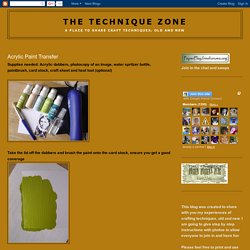 Total Time 30 minutes or less Ages preschooler These colorful, perforated window decorations can really brighten up a room when sunlight shows through all the pinholes. What you'll need
SUNCATCHER